Once again it was that time of the year, I was invited to a new years party with some friends that I was really looking forward too but at the same time I had to make sure to not get all in there so I won't feel like shit two days later. Why? Because it was time for that long flight again and as you might know, I'm no fan of flying at all so I definitely don't want to do that hungover. 
Somehow all went according to my plan and about a days worth of uncomfortable hours later I landed again at an airport I know pretty by now - Bogota, Colombia.
My 8th season in a row where I get a chance to fish in Colombia for one of the most beautiful freshwater fish on earth - Peacock Bass!
When I did my first Peacock Bass trip 10 years ago I never would have expected that I could pull this off year after year for so long. Do I deserve to be that lucky? I really don't know... I know that I always worked in order to pay for these trips but then again I guess I'm also just lucky that so far it always worked out somehow, no matter what I was dealing with in the other parts of my life.
So before I start doubting my existence again lets get to the interesting part - fishing!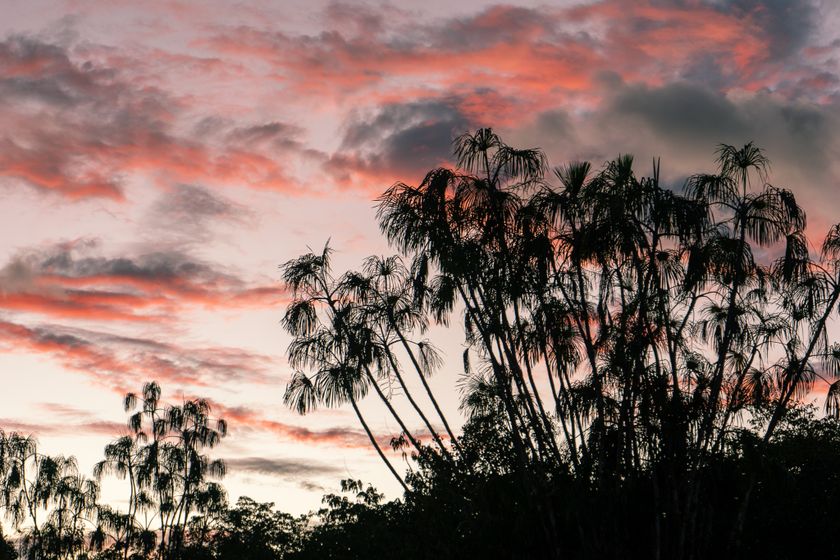 not sure if I just like palmtrees or it's because these remind me of big Peacock Bass... probably both!
 The first week I spent on my favourite river looking for THE Peacock Bass. I'm still hoping for my 30lber so I thought that this would be a good start. I chose the first week of the season there with the hope that I get to cast at the fish before all other anglers would. 
On arrival in the camp I asked the locals about the water level, I didn't get a clear answer that the river was dropping which I knew isn't a good sign to start with. The river was rising the days before and only started to sink very slowly during the first few days we were there. The level wasn't too high, its sinking rate just wasn't optional but that's something we all couldn't change so I just started fishing. On day one I had to cast almost all day before I got the first bite of the trip but it was worth it! 18lbs of beautiful Peacock Bass I got my hands on to open up the scores! The fish was very long and looked like it just finished spawning as it was very skinny. Could have easily been a +20lbs fish if fed properly... It swam away with one strong flap of its tail and I hope it found some real food soon afterwards.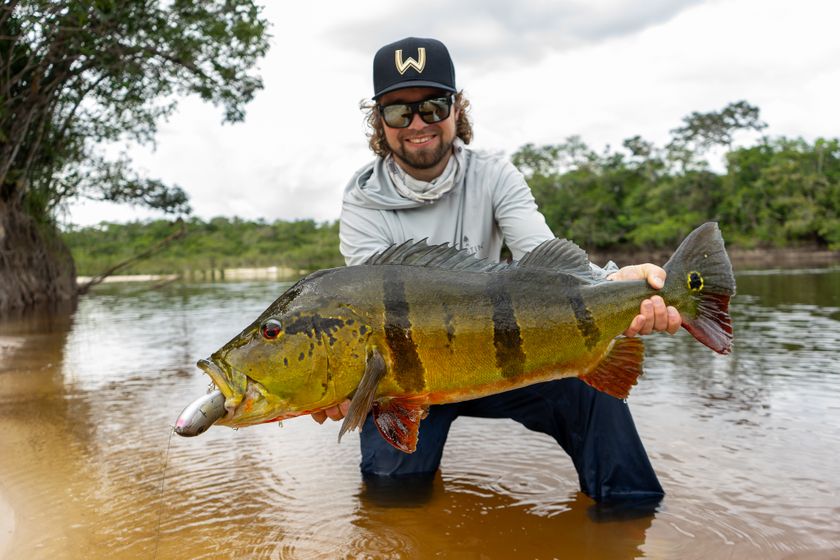 Overall the week turned out to be veeery difficult. The other anglers in the camp didn't do well neither and fishless days were nothing special during that week. I for my part probably had the most action of them all but then again most of that action consisted of huge followers which wouldn't commit plus a couple true giants which came off. If I would have landed all the fish I moved then it would have been one hell of a week but that's not how fishing usually goes. I wouldn't say there were no fish but definitely not a lot and most of them weren't motivated enough to inhale our lures.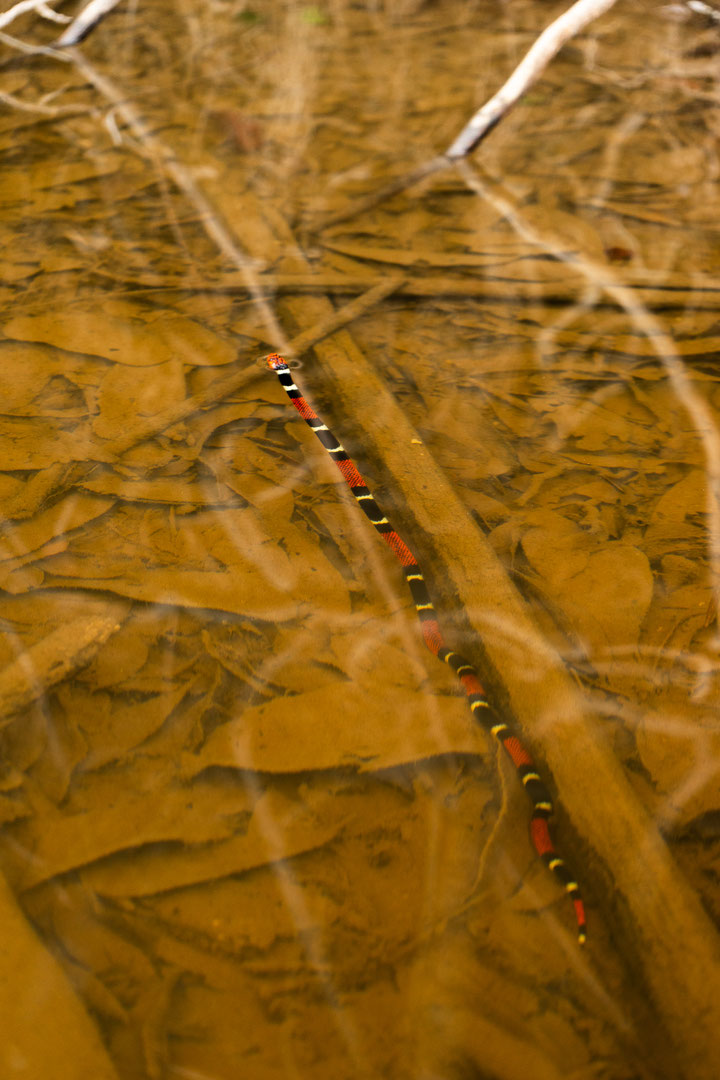 The most surprising catch was definitely my second bigger fish. Since nothing seemed to work that day I started messing around with a lure I've had for years but never really tried so I decided it was time to finally use it. Did a couple of casts and wasn't too impressed as I hadn't figured out how to work it properly yet. We had only about half an hour of fishing left and I was just too lazy to change lures again so I kept casting that lure. Casted into really shallow waters and suddenly had weight on, no bite - just weight which started moving towards deeper water. I thought , I somehow hit a catfish on its head or something but then a Peacock appeared on the surface and excitement grew instantly! - +15lbs of unexpected Peacock Bass which only started to use its full strength on the release!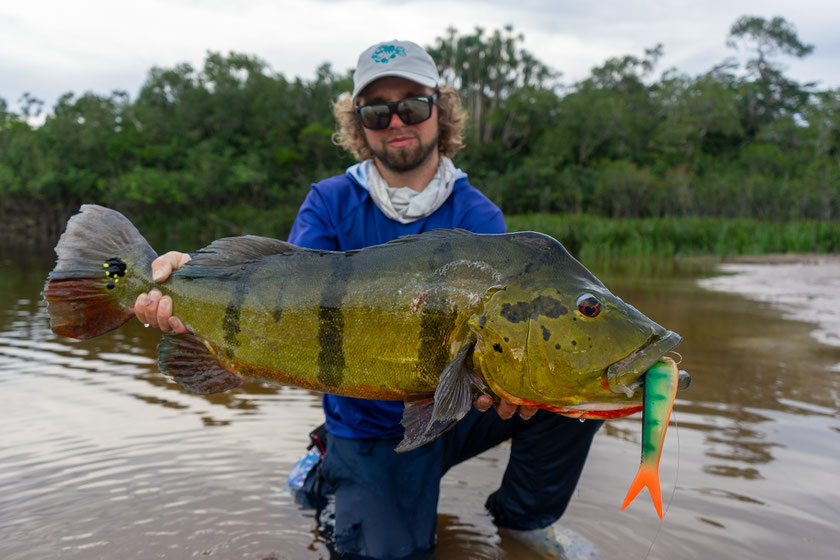 Besides that and very few small fish there was not much going on until the last day. I was a bit disappointed when I learned that we had to return back to civilisation earlier than expected and so would loose half a day of fishing even tough most of the group were happy that they finally could stop this senseless casting of lures and visit a bar. 
I was far from giving up and wanted to fish till the last minute which I did. Once again we passed a spot that we fished again and again the days before. I made like 10 casts to that same point without any action, casted again and out of nowhere a big fish hit my lure on full distance. I opened my brake immediately because I really didn't want to loose that fish and also it was swimming towards an empty beach. When I finally thought I had that fish under control it changed its path and swam straight into that one tree underwater on the other direction. Somehow managed to pull it out of there two times before I finally could grab its tail. I quickly realized that my hand couldn't grab all around its tail so I asked for a scale - 22lbs which is only one pound under my current PB.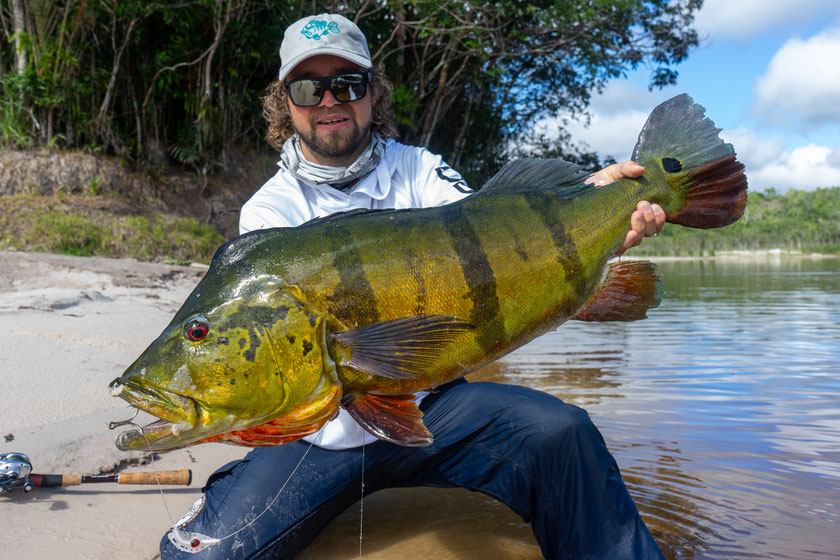 Couldn't have wished for a better end to this tough week. I didn't catch anything mentionable afterwards but catching more would have been excessive anyway.
---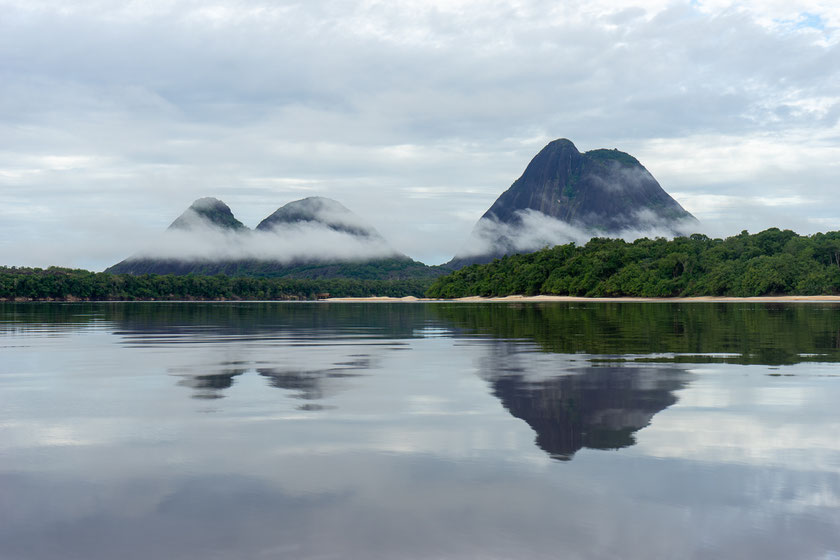 Just two days later it was time for trip two of this adventure - back to where we did the explorer trip the year. The locals up there were looking forward to welcome us again and on our arrival they proudly told us how they protected their fishing grounds all year long from greedy net fishermen. It all sounded promising plus the whole logistics were organised way better than last time, the travel time up river to the camp was quicker and this time we not only had clean drinking water but even a fridge full of various beverages. I couldn't wait to go fishing again!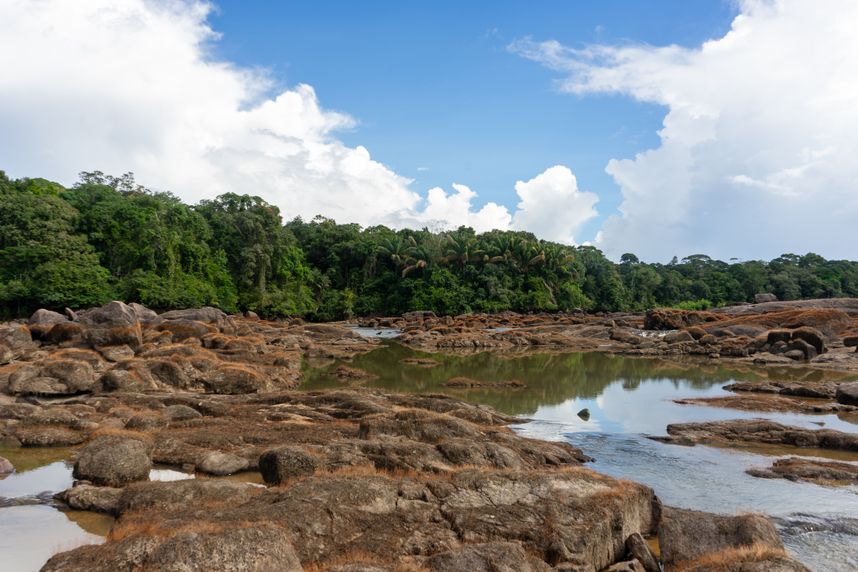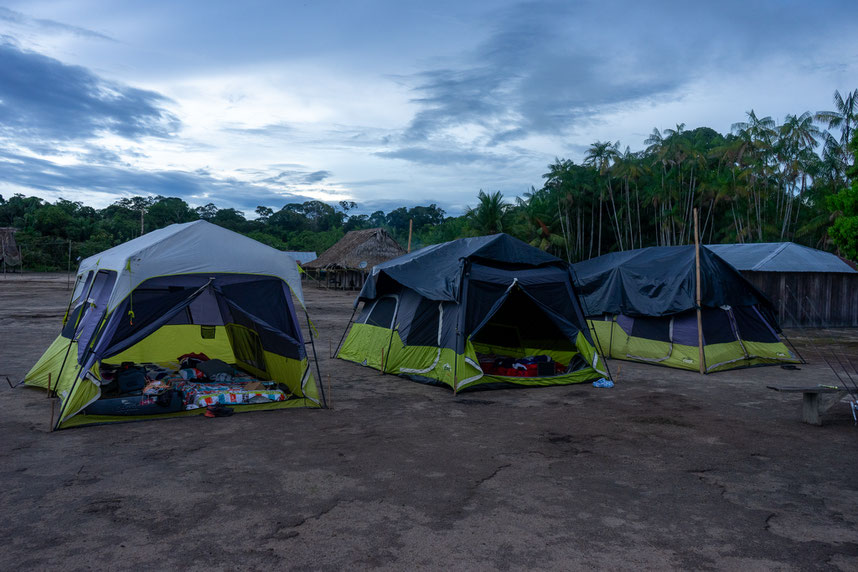 We started like last year on the lower part in a giant lagoon and the fish seemed on fire! It didn't take long for me to hook the first nice fish, several more followed shortly after. Nothing gigantic but mostly nice Peacocks well over the 10lbs mark. They seemed to be feeding everywhere as we found them in spots I knew from the last trip there but even better we also caught nice fish in new spots.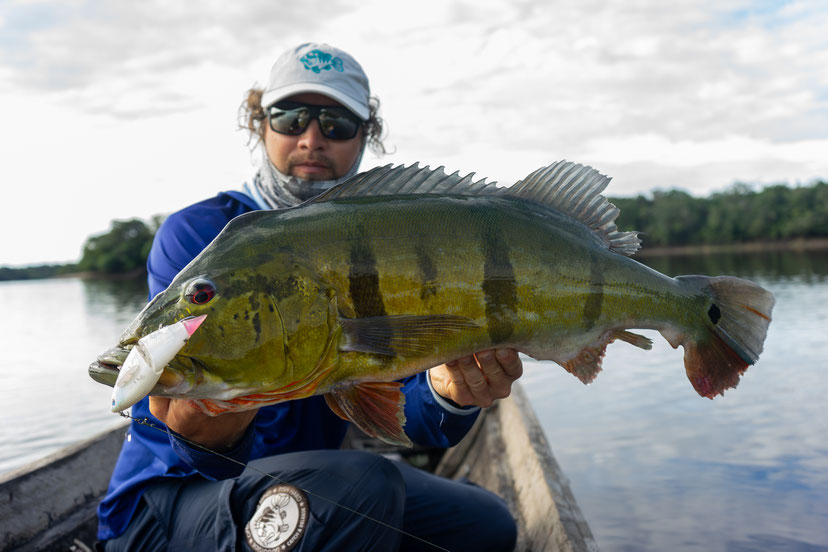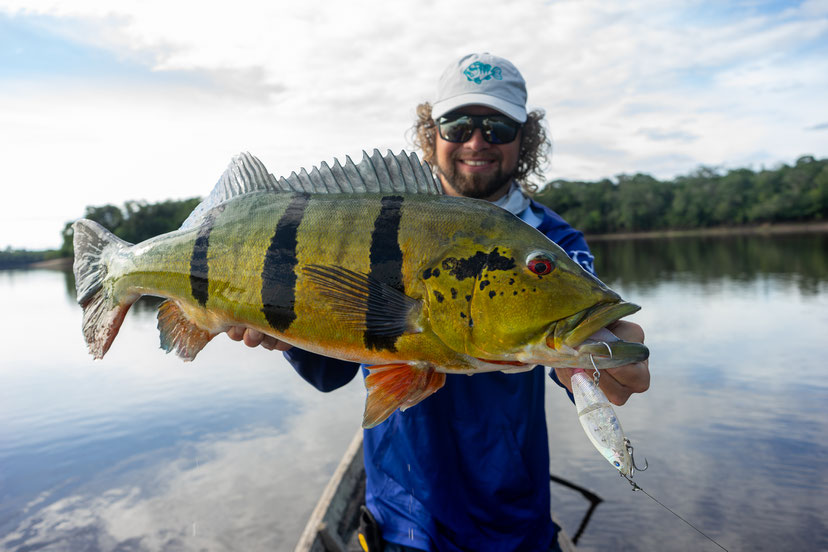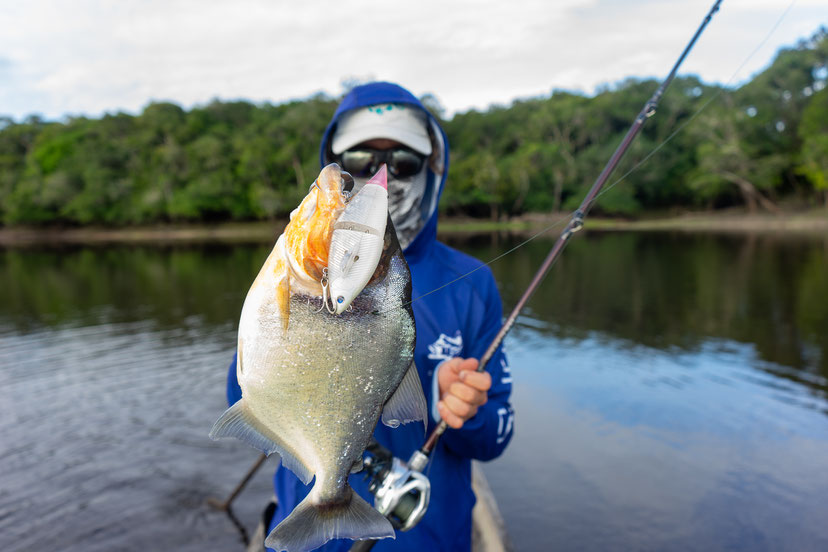 After lunch I decided to keep fishing big lures for the rest of the day with the hopes to provoke a real giant. I turned out to be not too bad of an idea as I hooked at least two really big one but they both somehow got off. The biggest still haunts me a bit as I still don't understand what went wrong... I hooked the fish close to the boat, let it do a couple of runs, brought it right in front of the boat where it seemed well hooked, I was about to bring it to the side of the boat while the guides get all excited but out of a sudden that fish slowly open its mouth and the lure just pops out... Gone was the biggest fish I've seen in that place so far, well over 20lbs... Somehow it seemed like my motto for this years Peacock season was "loosing the big ones" as this wasn't the last big fish I would lose over the next days...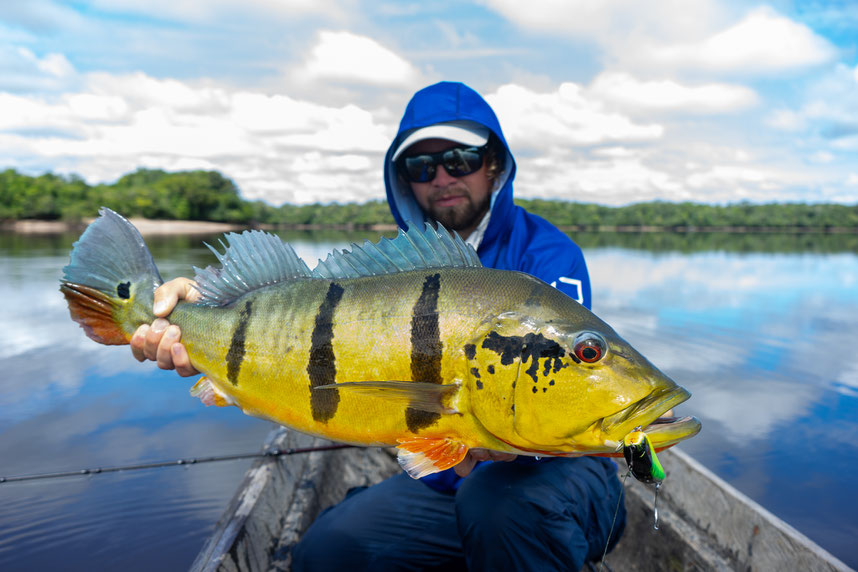 Every evening several of the other guests would tell me about fish over 15lbs that they caught that day, including my boat partner, Daniel too. I couldn't really complain as I caught fish every day, just nothing over 15lbs which are the fish I'm interested in...
The struggle with myself grew every day as I constantly had to remind myself that I should just be happy about being able to experience this and that I probably was just a bit out of fishing-luck. I still see Peacock Bass fishing as the one thing I'm not too bad at and actually accumulated some valuable knowledge myself over the last years so it wasn't always easy for me to accept the fact that I was the only one not catching the big ones. This might sound pretty dumb to you and reflecting on it I feel pretty childish in some way but at least I kept it to myself to not negatively affect the mood in the camp which was fun.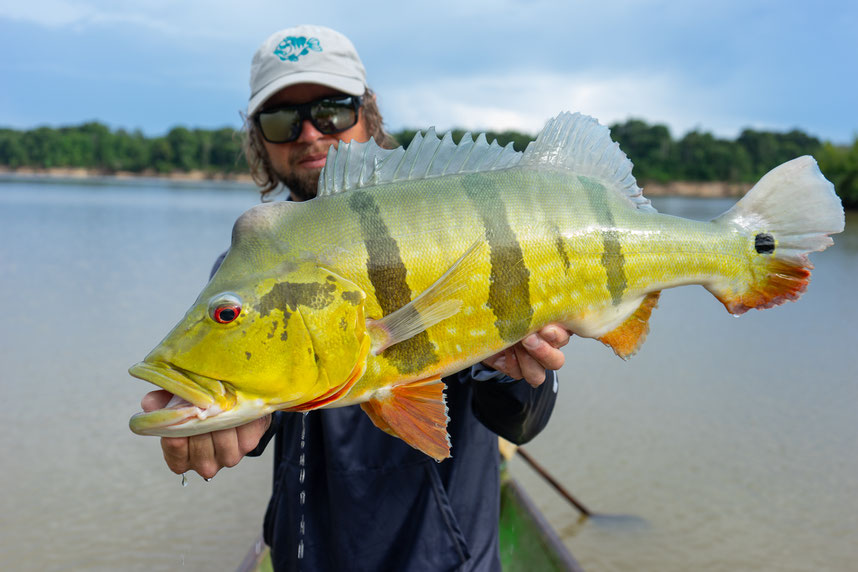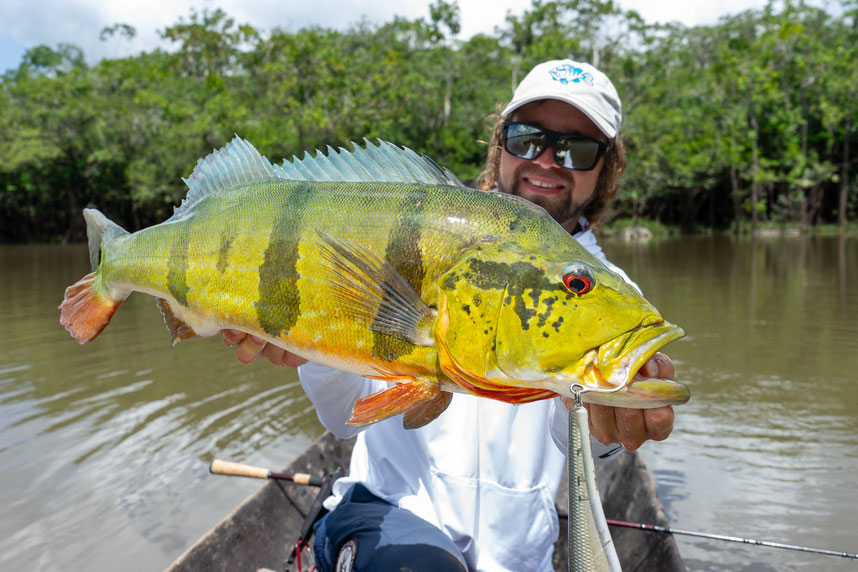 On the bright side my friend Matt gave me an introduction into fly fishing, my first time ever holding a fly rod in my hand. He showed me how to cast and would let me use his set up whenever we were at camp and he wasn't fishing. We camped a few days on a beautiful beach, the perfect place to practice casting as there was nothing I could get tangled up in but myself. So every morning there I would get up extra early and even waive breakfast in order to get at least an hour of practice in - I was fascinated! I started with a 12WT rod and a popper with a really cool sound. Nice as Matt is he would even get up in the evening and change his streamer or whatever he fished last to that popper so I could practice in the morning :) That beach was not only perfect to practice because there was enough space for me but also because fish would come to hunt there, so with every cast I had the chance to get a bite too. 
On the second day of my practice I got a bite but was so nervous that I forgot everything Matt told me and didn't set the hook correctly so the fish got off. I was so hyped but also endlessly disappointed to have missed my first fish on a fly rod. 
I tried again that evening and the following morning when finally something attacked the popper again. This time I managed to stay calm and set the hook as I was told, I really wanted to land this fish so when I got it close enough I just ran up the beach in order to pull the fish in so shallow water that it couldn't get away. I did it - my first fish on a fly rod. Usually I would not even mention a Peacock that size but with this one I felt like I just landed a new PB! :)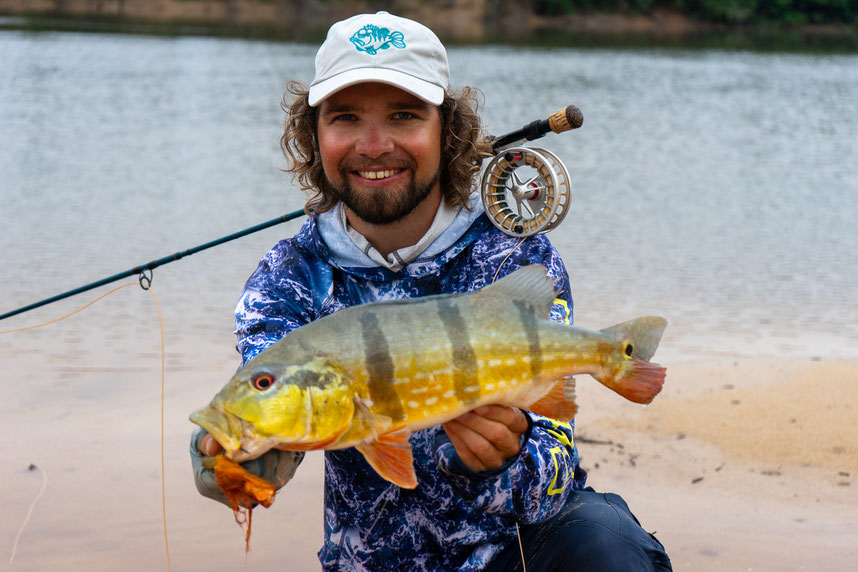 Now I was definitely hooked and knew that I got to buy me a fly rod for the next season! Minutes before we started the day on the boats I even caught a second one around the same size. I would have loved to take the rod straight to the boat and throw the popper all day long! Of course I gave back the rod to Matt and went back to fishing castings, caught a bunch of nicer fish and lost, you probably already know it, another big one... That day I just didn't care too much as I caught my first fish on the fly that morning!
Overall it was a really interesting trip as we fished the same territory as the year before but due to the water being a bit lower I learned a lot about the structure there which helped explain why some spots worked and some not so. We all caught quality fish every day, some days were better and some were slower. Sometimes a boat caught fish just after another passed there before unsuccessfully so I stayed attentive and tried to gather as much information as possible and tried out new things. Only one thing was missing for me and that was a fish big fish...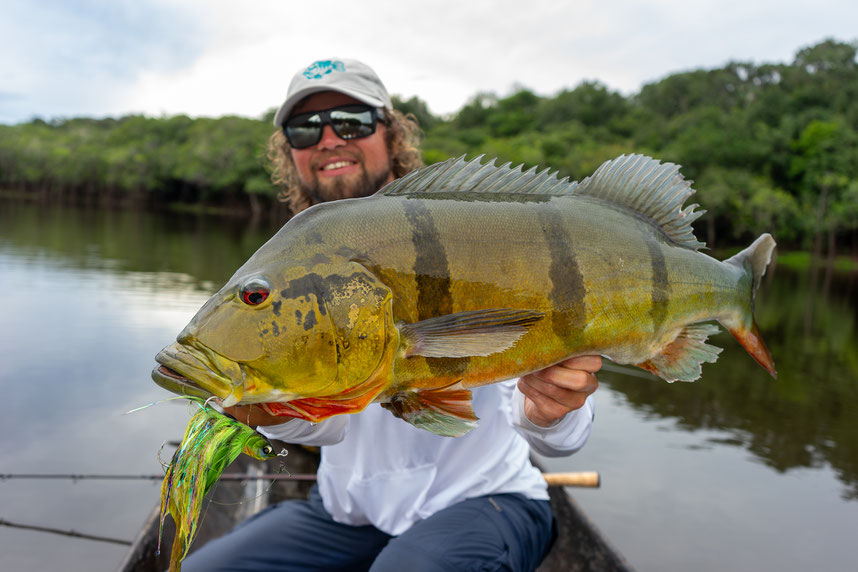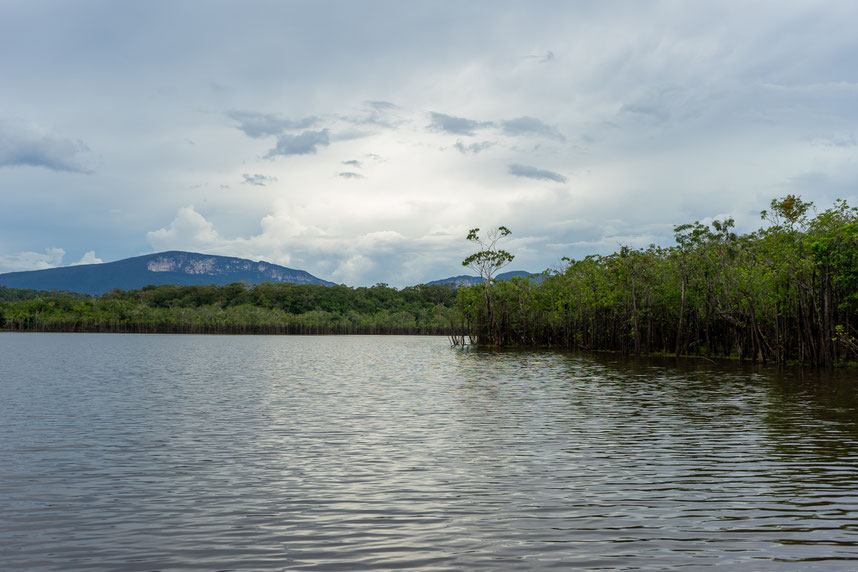 The last day came and I wasn't about to give up but I already got a bit frustrated in the morning when my boat buddy caught a beautiful 16lber exactly where I casted before. Of course I was happy for him but I really wanted to catch a nice fish too. Shortly afterwards we approached a stretch where we didn't have any action the days before there but I luckily wasn't in the mood to talk too much so instead of asking to change spots I just kept casting. I made a cast to an inconspicuous stump along the shoreline and got a bite but didn't feel much weight. Without saying much I just kept reeling in to get that small fish off but when the fish got in sight I got nervous as it appeared to be way bigger than expected. The fish seemed to feel my nervousness  and instantly exploded! I slowly worked the fish towards and around the boat while telling myself "thats the fish I've been waiting for" and got even more nervous when I realized that I finally hooked one of those rare hybrid ones which only few got caught before! 
My luck appeared to make a comeback and I landed the fish on the first try. It wasn't a very long fish but it was built like a square and weighted 18lbs - what a fish, finally!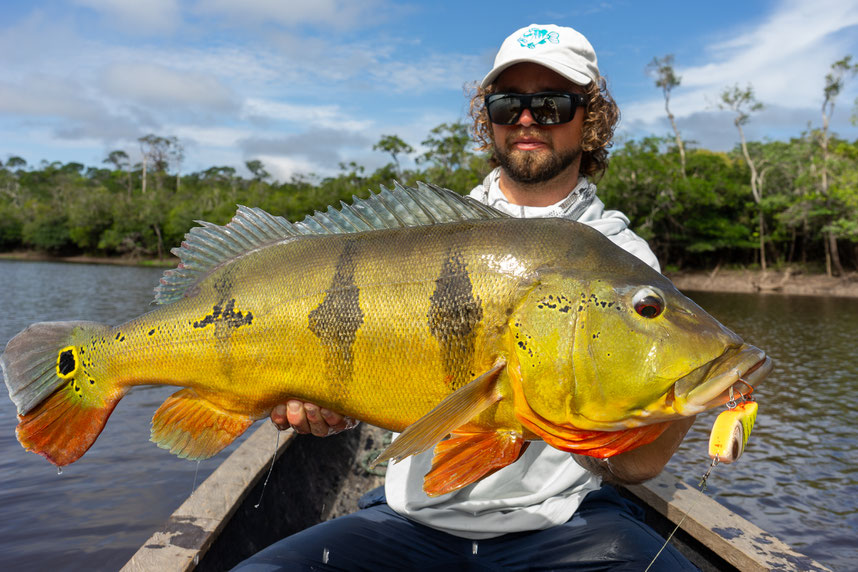 If you're wondering now about the species of that fish, we all did and still do too... As you can see the fish misses the three big bars which is typical for the Temensis Peacock but it has certain characteristics from a the three dotted Butterfly Peacocks too, for example the missing markings on the face which the Temensis usually have. Another special feature is the body form, that fish was built almost like a square, not very long but high and bulky - an absolute unit.
Over the week and also the year before, several fish with that certain pattern got caught. From 3-4lbers up to 20lbs giants and also in different spots, some hours apart. If I write several, in this case, I mean like maybe 5 in total. They don't see common but they all had certain similarities like the body shape and especially the pattern with the two fading stripes plus several spots in place of the third bar. So far nobody could give me THE answer, so our best guess at the moment is that Temensis and Orinocensis spawned together which resulted in some cool hybrids. If you know something about that, let me know! :)
No matter what it is, it's definitely one of the coolest Peacock Bass I've ever caught and I still look at the pictures of it over and over again.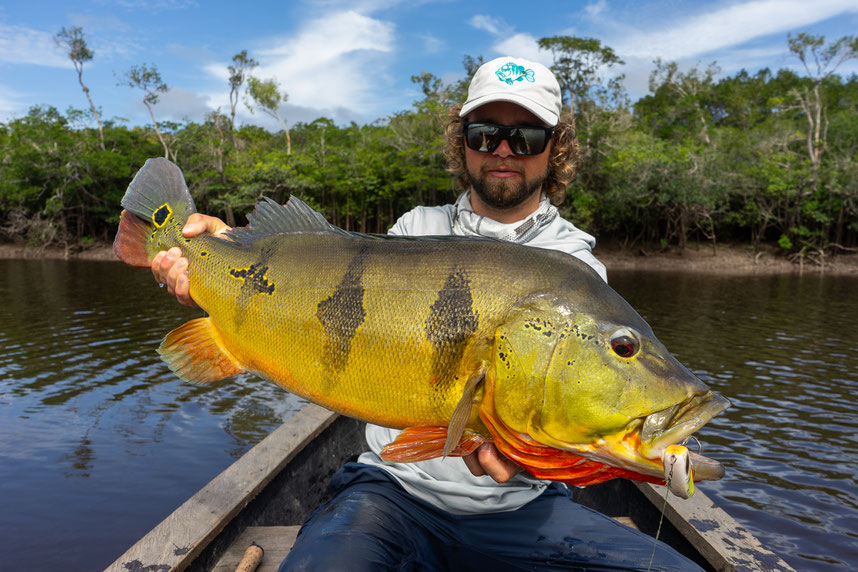 After watching this fish swim away strongly, my day was already done even though it was still hours before lunchtime. To catch a special fish like that honestly meant more to me than catching a 20lber to which I weight I still came pretty close with that fish. It might sound strange but for a moment I achieved peace of mind, I was just happy. Happy about catching that fish and just overall happy that I was fortunate enough to experience a place like this. With all the pressure gone I started fishing again and I was ready for more, ready to try out whatever the guys on the other boat we met shortly after told us. They appeared to have found a drop on one of the submerged beaches and had good success there in the morning. With their pointers we tried to find it and I think we found and passed it but without any depthfinders it's an almost impossible task to stay excactly on THE spot. We continued fishing the shoreline there and by chance somehow found another interesting stretch which held some good fish - within a short time window I landed another two beautiful fish of 14 & 15lbs. After that I don't remember catching anything mentionable but I know that I enjoyed every minute that day despite heavy rain on our way back to the camp which soaked everything just before we arrived.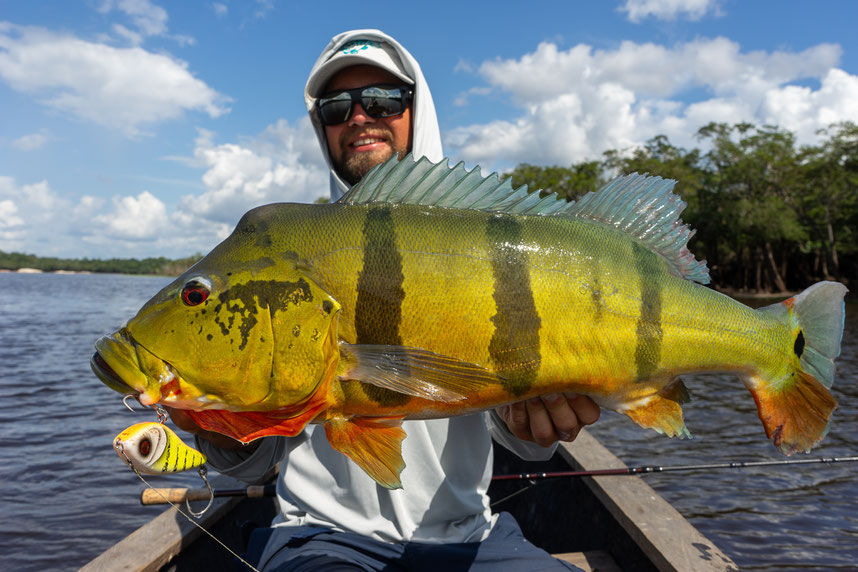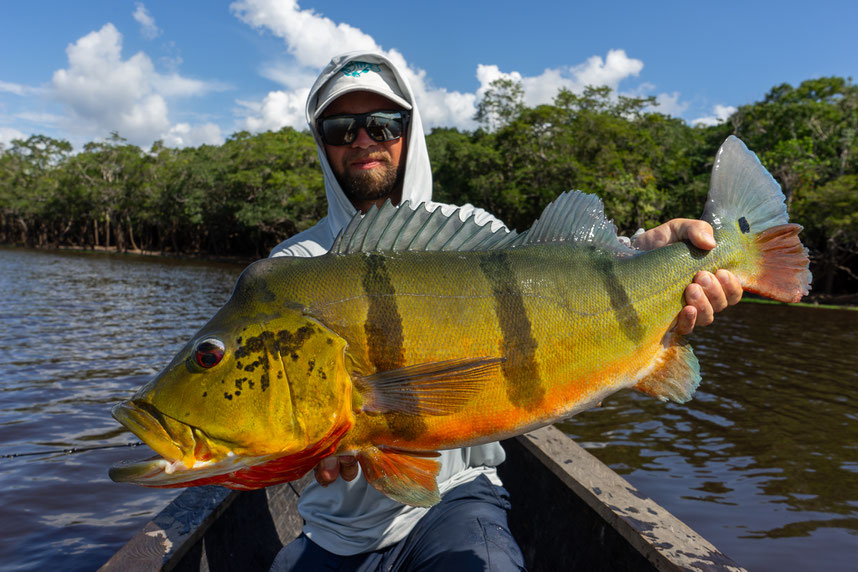 The journey back the day after went without any problems and so we arrived safely back into civilisation - what a trip!
Two days later I found myself already in the plane back home to Switzerland as for this season, those two trips was all I could afford which was once again nothing I should complain about! Of course I would have liked to stay for more fishing and I even had an offer for a free trip afterwards which I had to give away because my boss wouldn't allow me more vacation days for that trip. Once again, nothing to complain about since it was already very generous to allow me those three weeks for the two trips.
Even though the fishing overall wasn't easy and I had to work a lot for those fish, in the end I was lucky enough to catch some awesome fish which I'm happy about! If I caught all the fish I actually hooked and lost too, then my score would have been incredible but you win some, you loose some - that's fishing! If I can get another chance at these fish in the coming season, I definitely learned a thing or to to try differently on the next big one while with others that I lost I don't think that I could have done anything "better". Some just aren't meant to be landed at this moment I guess... or maybe my skills are just not enough.. yet! :)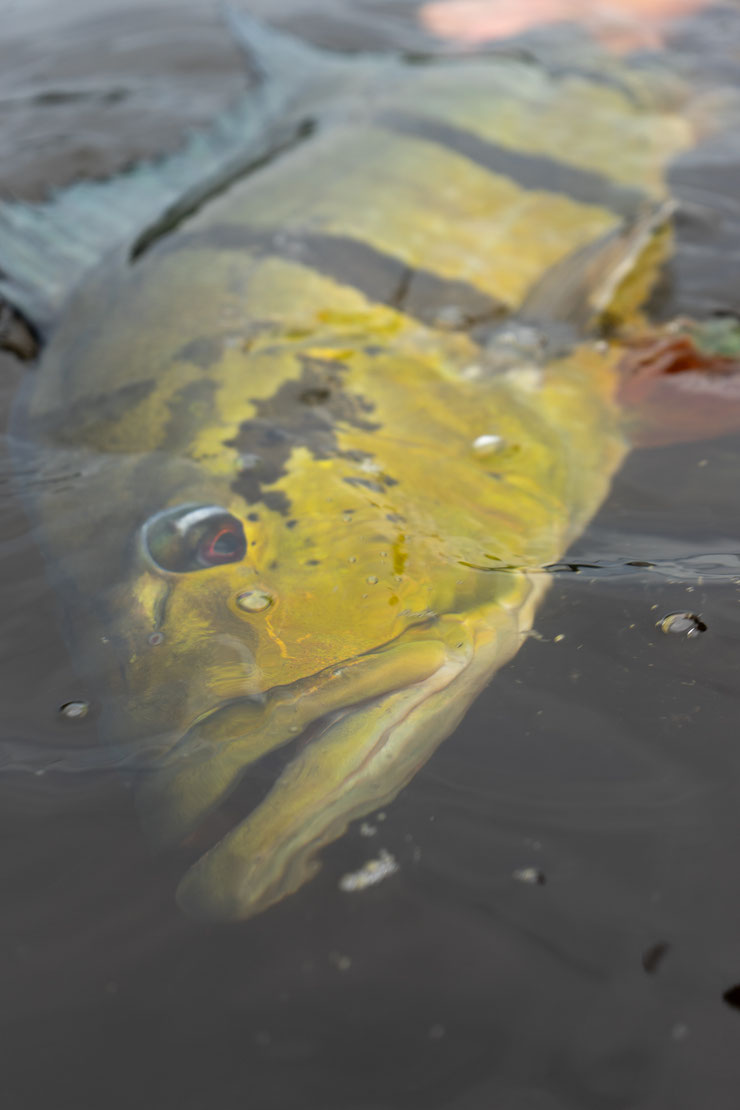 We will see what the future brings... I for my part hope that I will once again be able to return to the jungle for another chance at my dream Peacock Bass of 30lbs! :)
Thanks for reading!
PEACE&LOVE
Joel