For the jungle season 2022 I didn't just do the video project. I managed to save up enough to afford fishing two weeks before we started filming, so two trips for the warm-up, pre-fishing or whatever you want to call it.
These two weeks I spent on my favourite river where, so far I've spent more time on than any other river fishing for Peacock Bass. It's not an easy river and you usually won't catch numbers plus I feel like the fishing pressure increased a lot within the last seasons which doesn't help. Fishing there is definitely far from what it used to be when they started sport-fishing there over 20 years ago if you compare it to the stories I got told by one of the guides who has been working there since the beginning. Anyways, I like this river not only because of the amazing nature but also because there's still a chance to catch big fish even if its a slim chance. If you know my fishing style then you know that I'd rather cast a week for one big fish than catch 20 or more small ones a day...
My goal for those trips was definitely to catch at least a 20lber or bigger of course!
On my arrival the first mild shock, the communities who share this river had their differences and split the river up in several sections so we were not allowed to fish all the areas like the years before... We still had a nice stretch to fish but it missed some spots I was looking forward to fish. Anyways, I was happy to finally be back on the river so lets start fishing!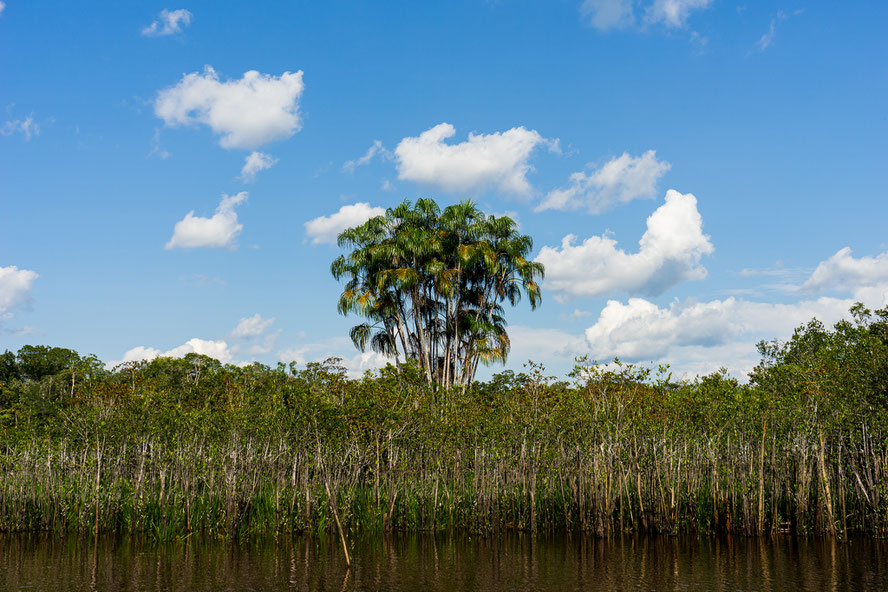 First day started really slow and I didn't have any contact for the first hours. Harder than I expected but I wasn't too surprised. 
Sometimes after lunch we fished a small cove within a bigger lagoon and I already casted to every possible direction, fished every part of structure there was without seeing any trace of a Peacock. Our guide started paddling out and I pitched to the trees along the way just for the sake of making casts when out of a sudden something hit my lure hard and moments later parts of a Peacock blinked through the water. Then I realized that I hooked a fairly big fish and there was dead wood everywhere in the water. Luckily I could keep it away from all that cover and somehow managed to land it. The boga stopped at 22lbs, put the fish back in the water, grabbed it for a quick foto-session and back in the water it went! I definitely didn't expect to start the trip like this!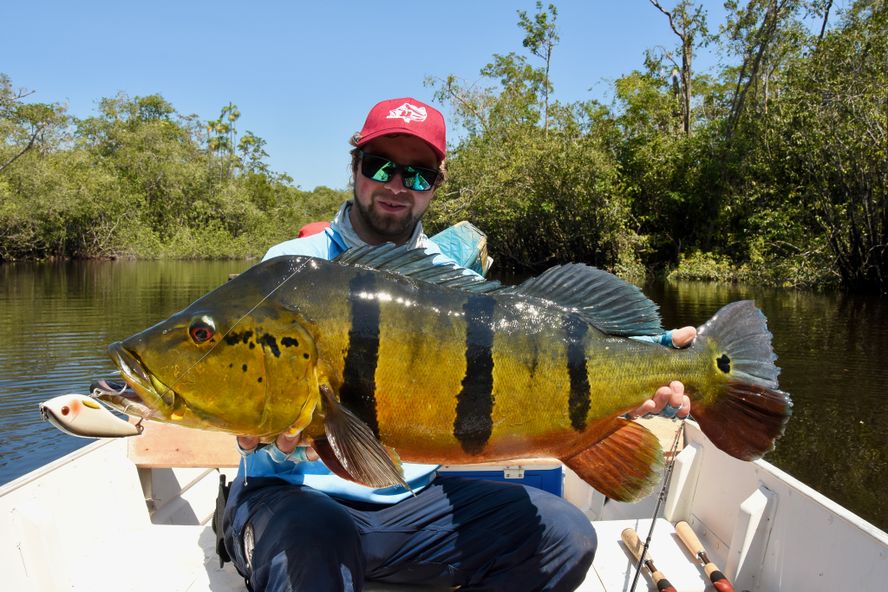 The fishing stayed tough all week long, you really had to work for every fish but it would be boring too if all the trophy fish would just jump in boat, right?! Well, after several really slow days like it's very common there, most would probably wish for just that, including me but as this was highly unlikely to happen I couldn't do nothing else than just cast, cast, cast.. 
By the end of the week I had some really nice followers and bites which wouldn't stick to the lure, lost a few really good ones too and landed at least another pretty good one with 18lbs.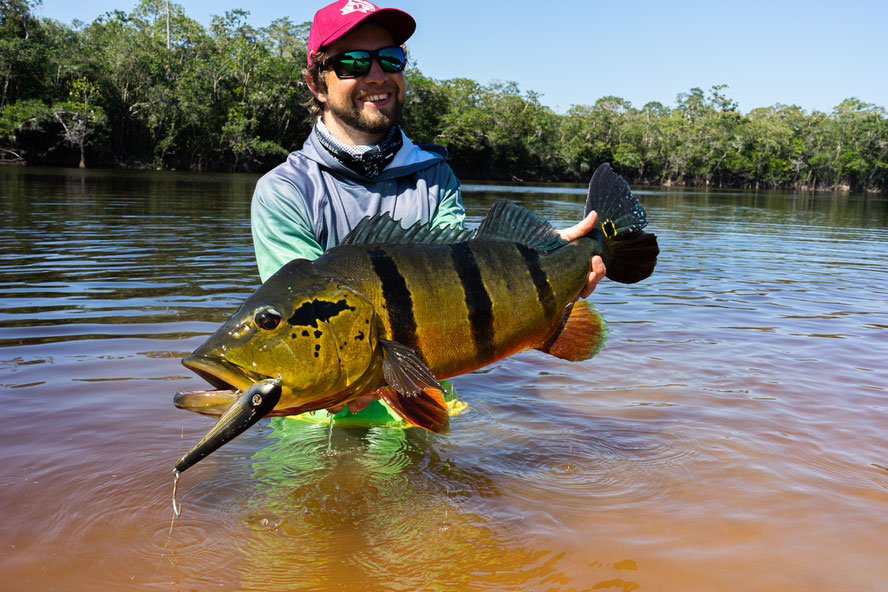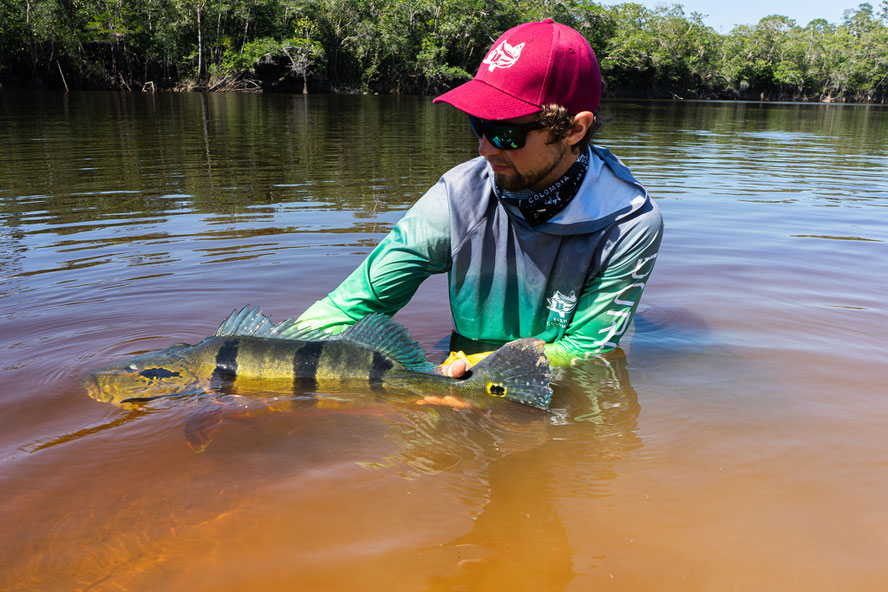 But the most memorable catch was definitely one around 11-12lbs and it went like this: After no fish-contact for several hours I decided to give the classic bucktail jig a try to test out the light rod I brought for the first time. Casted the jig to a beach on the main river and hooked one of those dumb toothy Bicudas. I tried to reel it in fast and when it jumped on the surface a pair of Peacocks appeared out of nowhere and destroyed that poor fish. There was a big splash and it felt like first I had the Bicuda plus one of the Peacocks on. The Bicuda fell off the hook and most probably got eaten as whole, the other hungry Peacock then, in its feeding frenzy just ate the next thing it could grab which was my jig. Hooked that fish and the fun was on! Luckily that all happened at an open beach with no cover because I quickly found out that this light rod had nowhere near the power to have any sort of control over a medium sized peacock. Landed the fish but put the rod away quickly afterwards. 
In case you're wondering about the rod: Fishman Brist Compact 5.10LH - fun rod to fish smaller lures and I used it again in a spot full of hungry 2-4lbs Butterfly Peacocks which are very entertaining on this rod. For bigger fish which I want to land its definitely not strong enough in my opinion.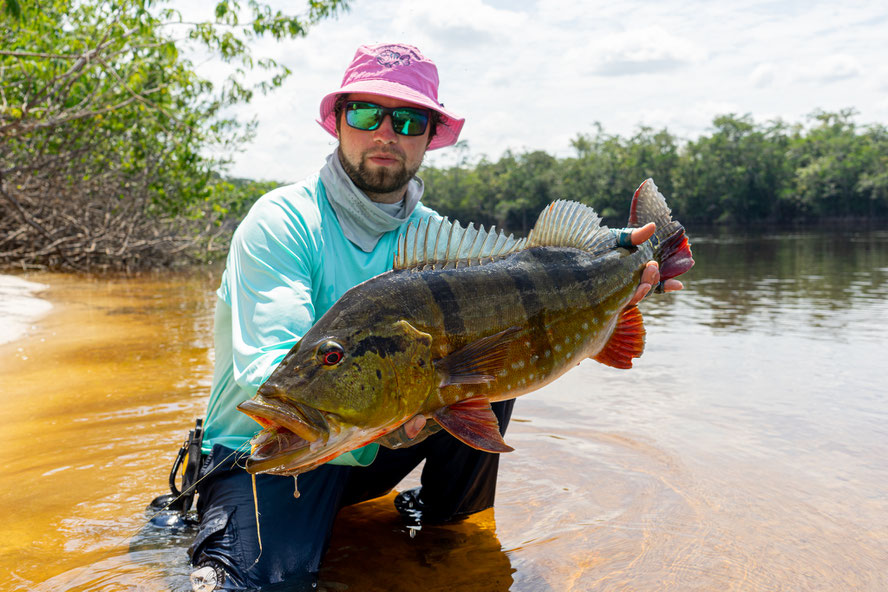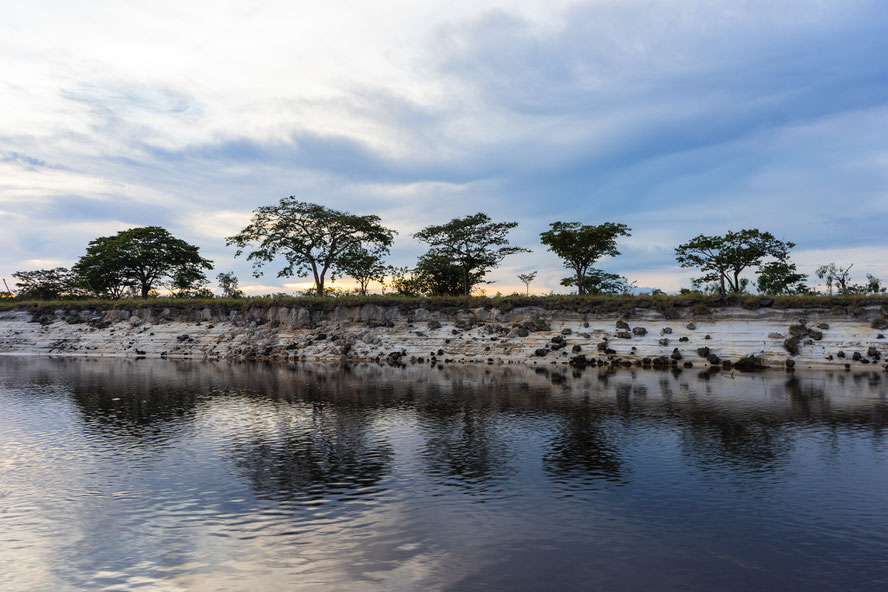 For the second week there was the rumour going on that one of the most famous bassfishermen ever would come to the camp. While the others from the first group headed back to civilisation I waited in the camp. Unfortunately I couldn't fish because they needed all the boats to bring in the new group of around 10 Americans. 
They arrived late afternoon and there he was, Jimmy Houston in person among a group of his friends as I was told. Most of them hardcore bassfishermen too which I thought would make some interesting talks. The funny thing was most of them only realized at dinner that I was a guest too and not staff. Some even complimented me on their arrival that I was the first local they met that speaks english :) Once this was cleared, the question was who would want to fish with me as each boat was meant for two anglers. I think most were a bit skeptical of me at first but finally one came up to me who was willing to share the boat with me. He introduced himself as Dale and I had a blast fishing with him. He's an avid bassangler and told me some crazy stories from his homelake, the famous Lake Fork! This didn't affect our fishing there but would have an important impact for a future fishing trip (stay tuned). 
Fishing was still tough and having more anglers on the water than the week before didn't make it any easier. While trying to catch another giant, I was also trying to put Dale on a big fish. Not really because he promised me $200 if I get him a 20lber but just because I had a blast fishing with him and he really put in effort. He had a couple encounters with real giants during this week but somehow always ended up on the unlucky side, sometimes I was really pissed at these fish when another one got off! :)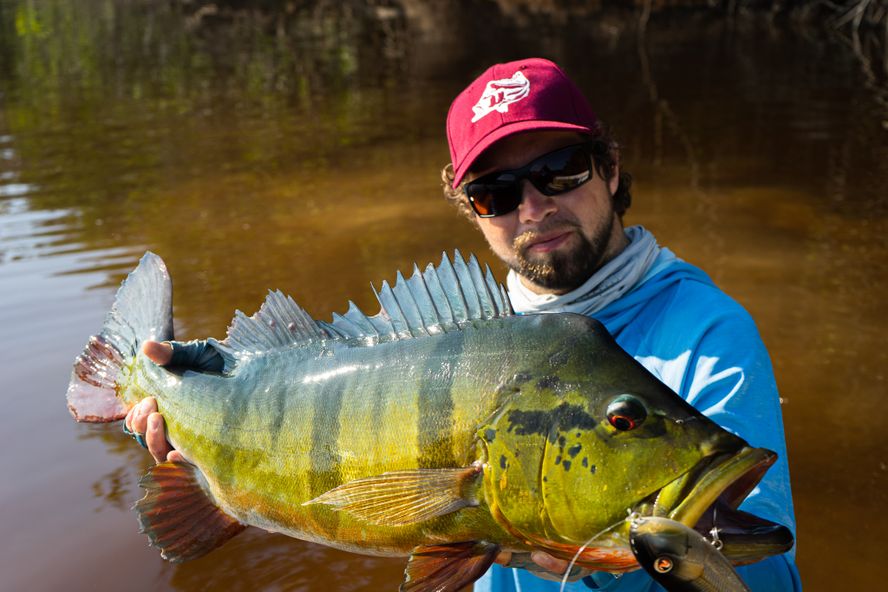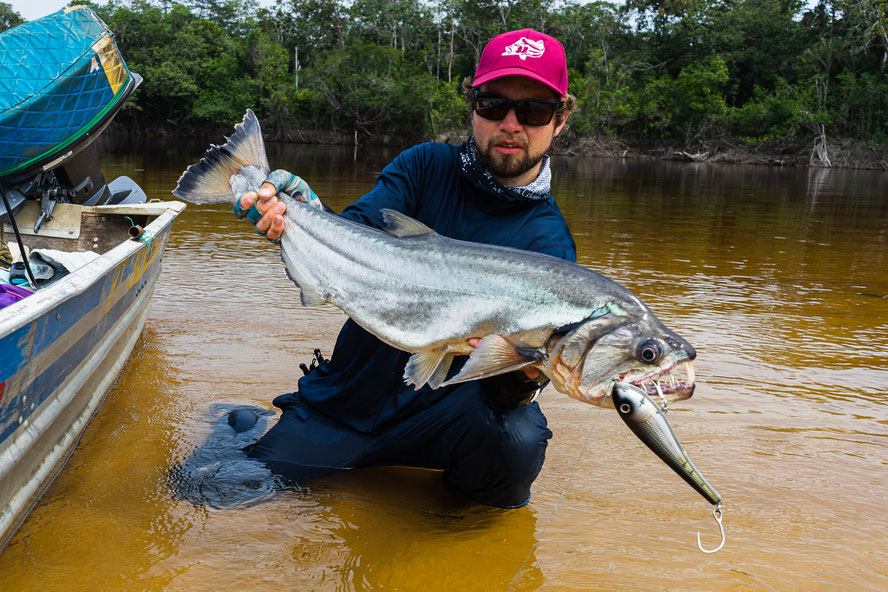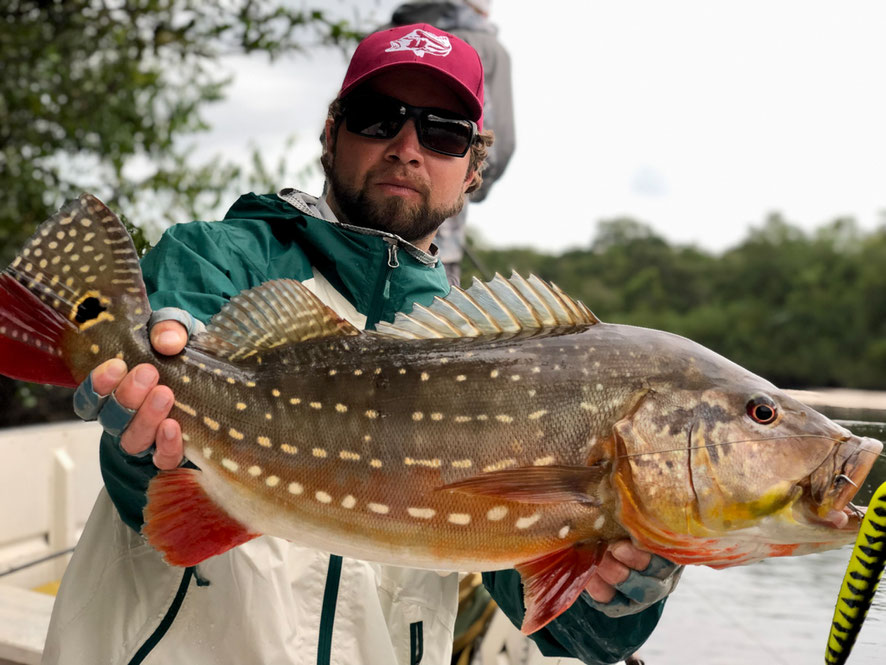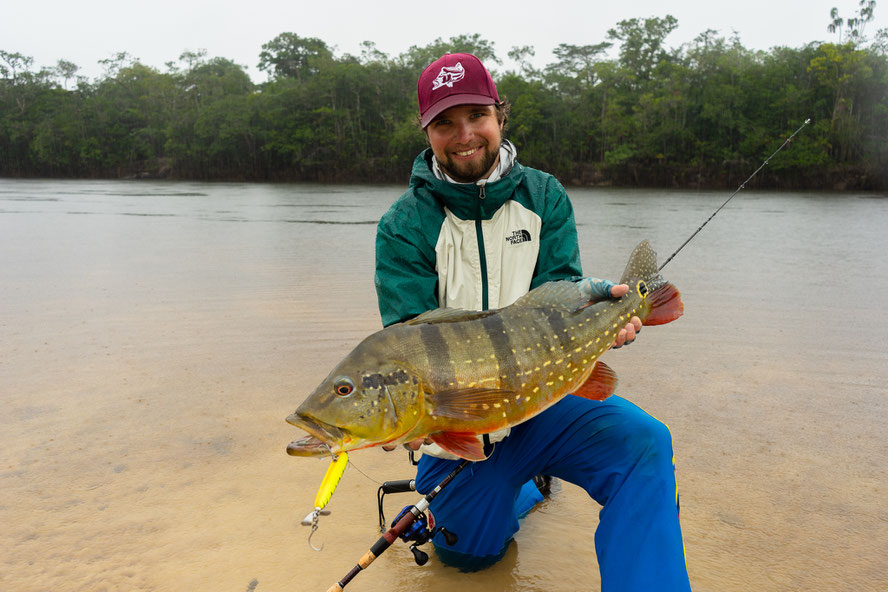 I, for my part, picked up a 15, 16, 17, lost again a couple nice ones plus more huge followers which wouldn't commit once again...
On the last afternoon of the trip, we were already on the way back to camp, I begged the guide to stop on spot where we saw fish a couple times before but they would never bite. We were still in entrance part of the lagoon when a huge fish started chasing fish on the surface. I assume it was one of the fish I saw the week before on a nest that would finally start eat again. I sat down and let Dale do the first casts, again and again he casted in the right directions but nothing happened. The fish seemed gone and then I picked up my rod, same lure as Dale was fishing. Immediately I got an explosion of a bite - big fish on! The fish went straight to the sunken trees on the other side and I could feel them scratching while pulling the fish out of it which I had to do several times. Luckily everything held up and moments later I managed that fish towards the boat, jumped in the shallow water on the beach and grabbed it on the tail - Yesssss! 19lbs of brutal Peacock Bass what a way to end that second trip!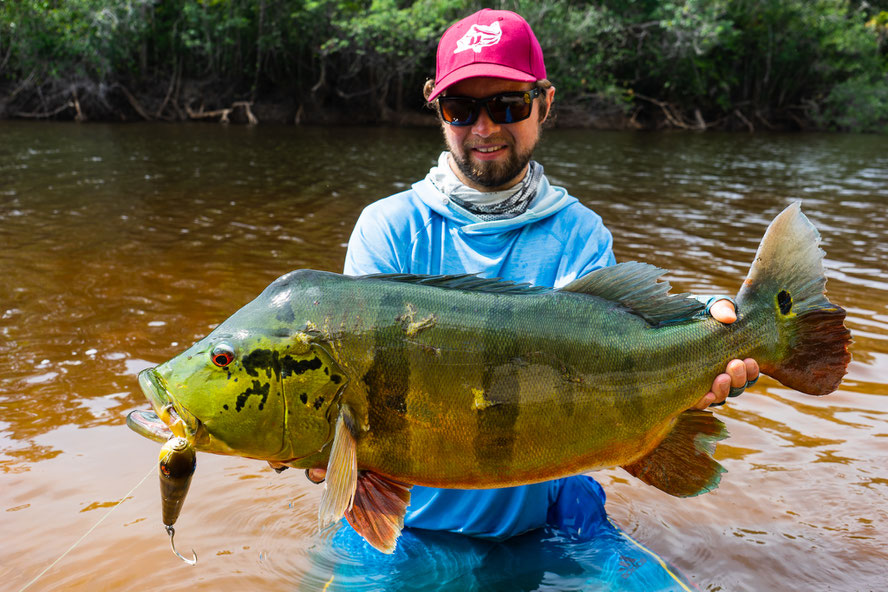 The bare stats for these two trips or 12 days on the water as following: 15/16/17/18/19/22lbs
Had to share that just because the numbers match so well :)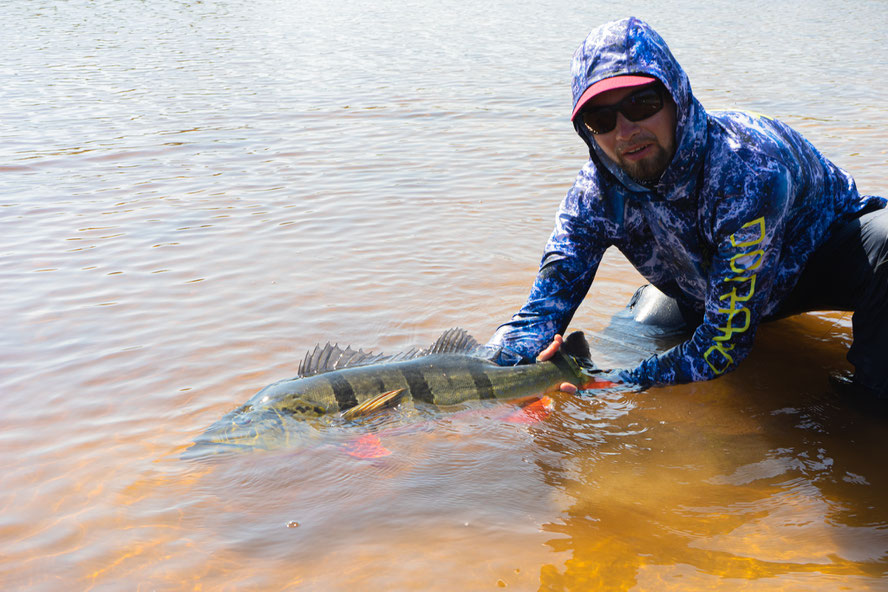 Besides the nice fish I caught, the highlight of this trip were definitely the people I met there and the interesting conversations we had, all the jokes along made for a entertaining atmosphere and while I don't agree completely with everyone's views and opinions I got along with all of them and also learned a couple things. I have to admit that I had some mixed feelings/prejudices when I first heard that I would be fishing with a bunch of people mostly from the South but in the end I got along well with most of the group and tons of jokes to laugh about as well as very interesting conversations. Plus the Southern accent to me sounds hilarious even though I have to admit that at times I had difficulties understanding everything.
One of the funniest conversations I overheard during this week was definitely the one of the two gentlemen who slept in the tent next to me and it went something likes this:
Guy 1: Man, that Swedish guy told me so and so, I gotta try this tomorrow, what do you think?
Guy 2: Man, he is Swiss not Swedish, these are different countries..
Guy 1: I don't care, Swiss, Sweden its all Europe, I don't get their country anyways.
Definitely the funniest bedtime story I could've asked for! :D
If you ever been in a fishing camp you probably know that people are quick with inviting others to come fish with them at home and so on. Usually I'm not so sure if they really mean it so I don't take it too serious. But when Dale generously invited me to fish with him Lake Fork in Texas I knew immediately that this would be a trip I have to do! This lake is on my bucket list sinceI first started learning about bassfishing and so we talked about that lake all week long, mostly me asking questions and him telling me aboutall those 10pounders he's caught there. What I then didn't know was that earlier than first expected i would be on the way to Texas...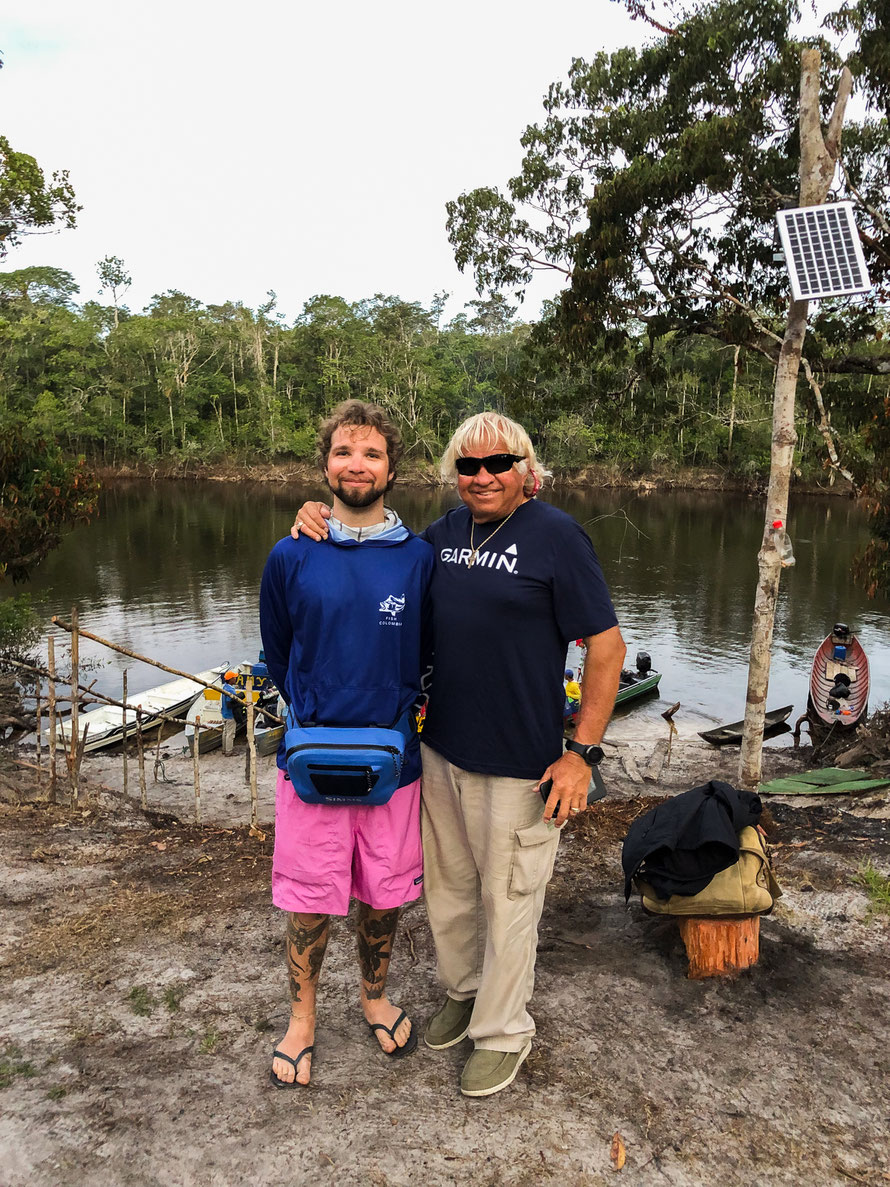 Thanks for reading!
Peace&Love
Joel