After returning from Texas in June, besides working, I mostly focused on the festivals during summer. Even tough I don't remember a good part of these multi day parties I'm sure I had a great time and somehow survived all of that action. 
I fished every now and then in the home waters whenever I found some time and was able to walk a straight line so not too often and the results were accordingly. I got some average chubs and lost at least two big ones and that was it, honestly I wasn't too motivated to mess around with our average summer perch which mostly measure a whopping 20-25cm. 
As the weather got cooler and the days shorter I slowly started to focus my free time on fishing again, luckily I got a few invitations from friends to fish with them from their boats and as the motivation grew the next trip was coming closer and closer. 
Finally it was time to return to Spain and the big perch lake I fished there a year before for the first time. 
This time I booked a full 10 days with the hope to increase my chances of hitting a couple of good days with comfortable weather conditions. This time I knew that it can get pretty windy and wet there so instead of just bring more tackle I focused more on upgrading my dressing game to stay warm and dry even in bad conditions. Of course I still brought way too much tackle to, an advantage of driving there instead of flying as my car holds way more stuff than the luggage limit on a plane :)
I took off early in the morning and 14 hours in the car later I arrived at the lake just before dinner time! 
Before meeting the crew and eating I wanted to make a couple of casts on the other lake which I knew from last year. I hoped to quickly catch some perch before dinner so I jumped out the car, rigged a rod and literally ran down through the bushes towards the only spot I knew. Within 5 casts I lost 2 rigs, what a start..!
The first day I was joined a local so I hoped to learn some new spots and tricks which I could use for the coming days. he had a Livescope on his kayak so we could check out the spots pretty accurate and we saw fish on most of the spots we visited but it still took us until after lunch to finally find a perch that would eat. My first "real" perch of the trip measured something over 40cm, a nice fish but nothing noteworthy for this lake. On that spot we observed a whole group of big perch hunting baitfish but they wouldn't touch our lures no more. Same for the following spots we paddled at. For the last hour we visited a cove that apparently is one of the most popular spots on this lake, I just didn't know that. To my surprise I caught my second better perch of the day there in not even 1m of water. Some smaller ones and pikes followed before and then it was already time to head back to the port. 
The following days I then spent learning more about the lake, looking for spots and visiting ones I already knew. I also forced myself to work more with my sonar to get to know that and slowly I started to learn how to read it. I still have to learn a lot of course but I can proudly say that after a couple of days I started to recognise perch. Approaching them after is a different thing but at least I knew that I wouldn't fish in empty water. It also helped me a lot in understanding some spots and adopting my techniques accordingly. 
The other important factor played the weather, we had days when the wind made fishing most spots impossible but then again we had days with several hours of sun and no wind at all. Every day was different and interesting, some were just nicer than others.
What I learned is that if the wind gets to a certain level it's not just almost impossible to fish but also dangerous to navigate through the waves. No matter how bad I wanted to fish a certain spot, if the wind is too bad its just stupid to try to paddle there and risking to flip the kayak... I tried it a couple times to a point when I realized how stupid and unnecessary that was and I also never caught a fish in these situations as properly fishing while constantly keeping the boat from sinking isn't possible. Luckily I always made it through those stormy waters and thanks to my improved dressing game I even stayed dry for most part.
In the end I had days with several giants but also days with zero fish contact and everything in between. 
The first very memorable day was probably the second. The year before I caught two perch on day two which together resulted in 99cm - 1cm shy of a meter. This year on day two I also caught two fish with the only difference that I broke that 1meter mark with a 49cm and a stunning 52.5cm perch which meant also my new perch PB.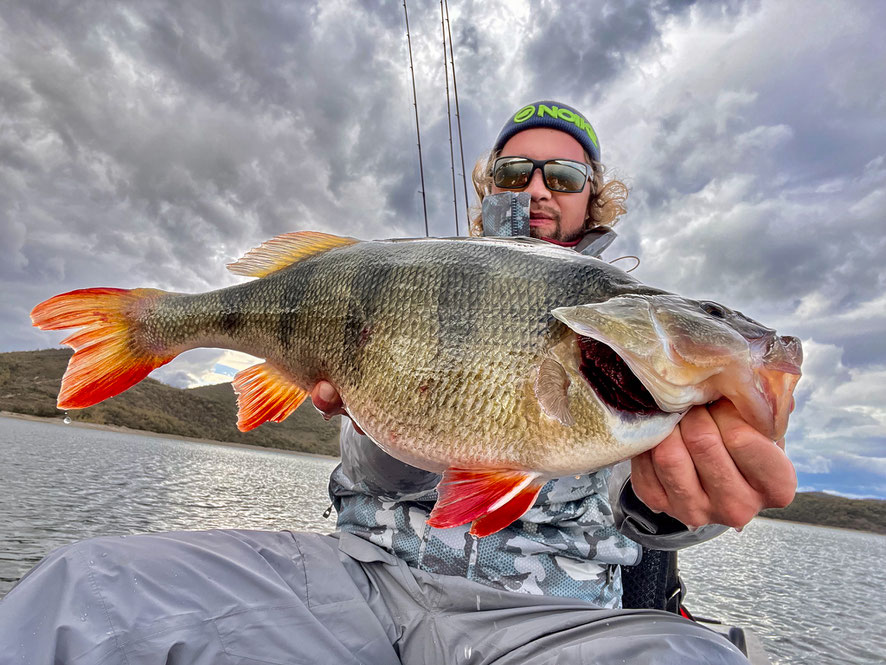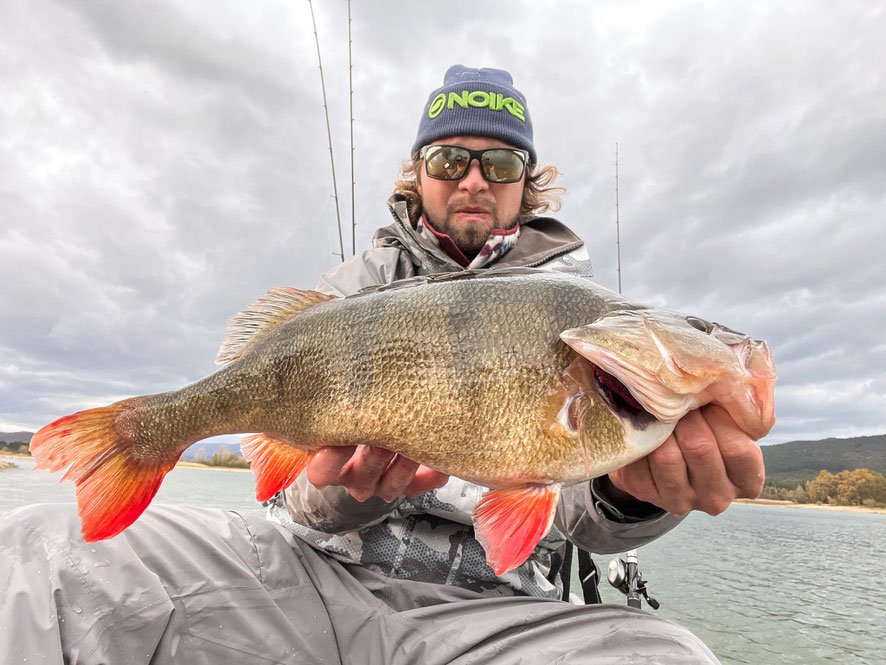 You might think now that something isn't adding up after reading about the fishing being difficult there while I also brag about catching fish, including trophy perch already, on the first two days. Well, don't worry, I had several days with no fish at all and days where the only bite was one bait sized perch. I assume that people come here to read about fish and not about me paddling around the lake all day long more or less clueless where the fish are because the wind was too strong to fish "my" spots. For this reason I keep that part short - yes, I had days with no fish and if I would have only booked four days like the year before and it was during that period I wouldn't have much to tell you, expect maybe how kayaking plus fishing with wind sucks... 
Luckily I was able to stay longer and got to experience good days, not so good days, disappointing days but also fantastic days.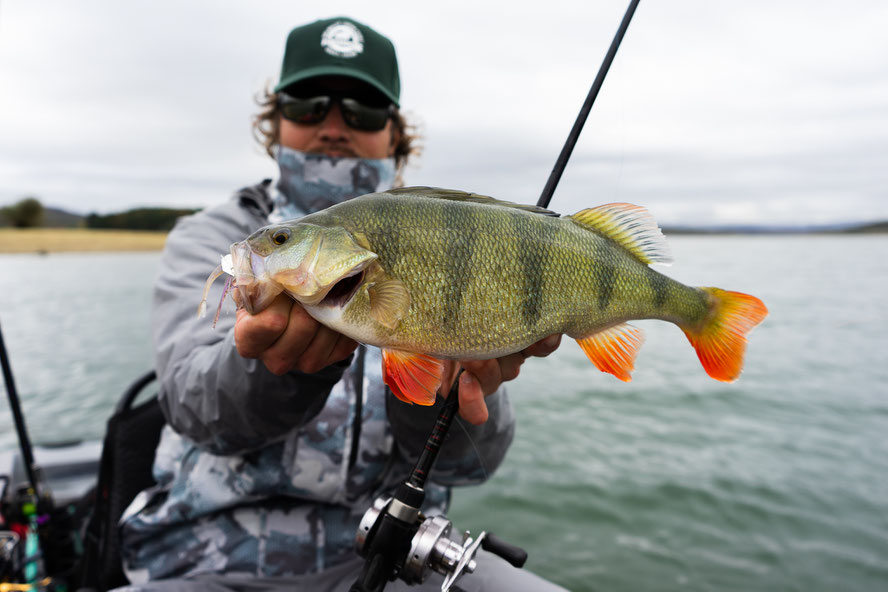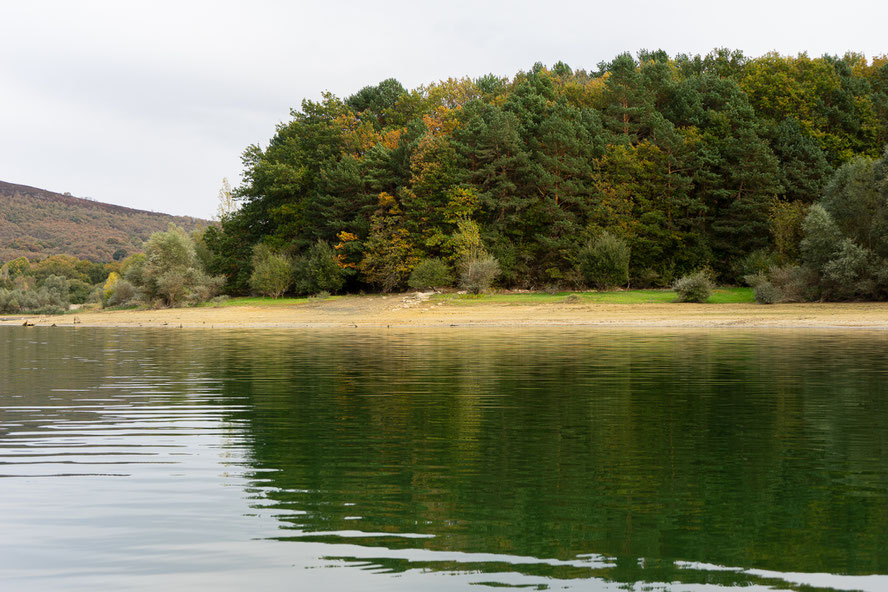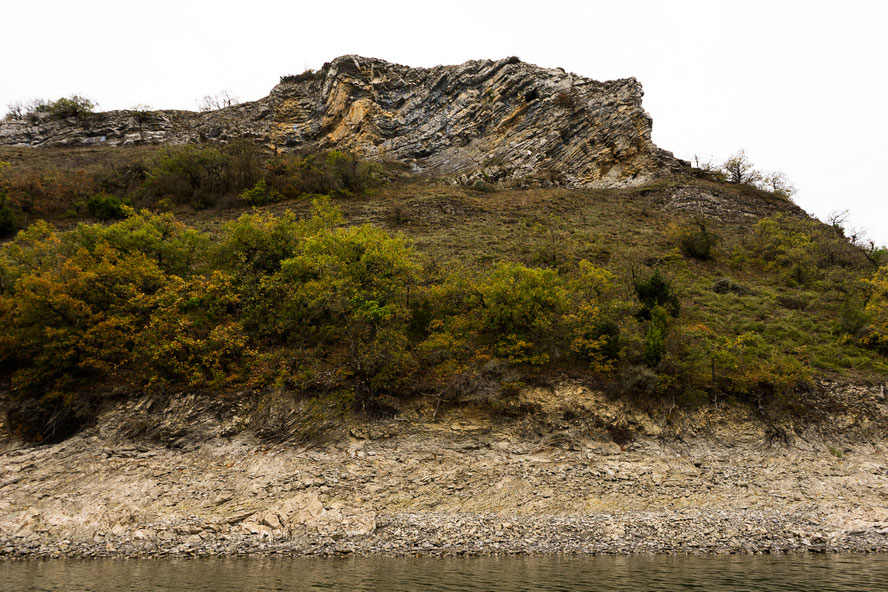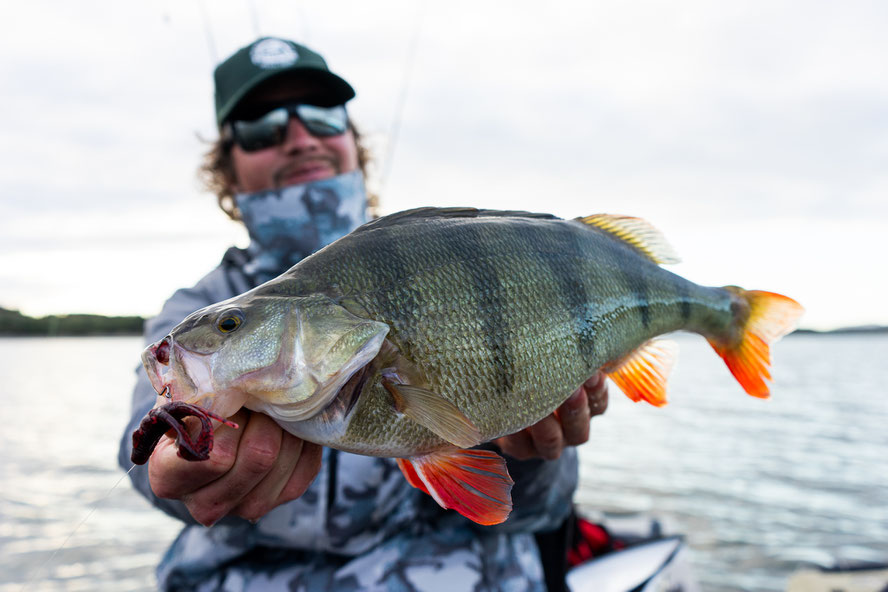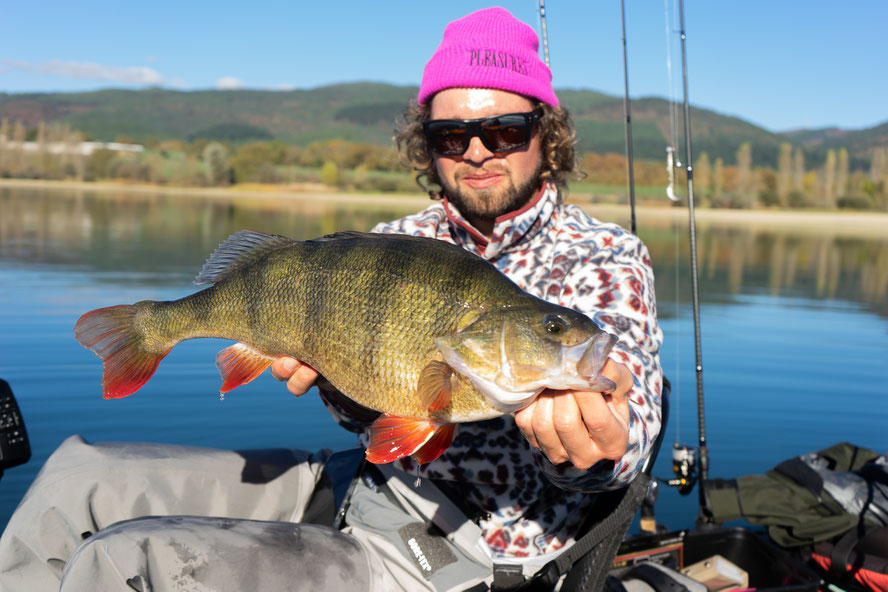 There was one day in particular that I like to remember a lot. After some fishless days, the next morning started slow for me but at least the wind was way better than the days before which allowed the two friends I fished with and myself to fish spots I knew. We spotted some fish and they both caught some nice perch while nothing seemed to work for me so just before lunch I decided to change spot. My friends were a bit skeptical of my choice of spot but they shortly followed me as it was time to get our lunch delivered anyway. I spotted a huge perch chilling in clear water and then I realized that it was slowly following my lure. I thought it was just beautiful to watch this fish with its beautiful green shimmer but at the same time I wanted to cry because it just wouldn't eat my lures. I totally lost track of time and probably spent over half an hour oberserving and casting at the fish - no chance!
Quickly shoved lunch down my throat and continued fishing while my friends already were on their way out again on to another spot. First cast and I finally get a bite which turns in one of the most intense fights I ever had with a perch. I just put the net into the water when the hook just pops out the fish's mouth, I wanted to cry again - that was a big perch! I then saw that the hook got bent almost straight - damn! I tried out these ultra light offset hooks with the idea that my softbait would sink even slower, well it worked but at what price... I quickly changed to my trusted Decoy offset hooks. 
Next cast and another bite, at that time it was windstill and sunny, as I set the hook I saw something greenish blinking in front of me and when I took a closer look I saw six big perch swimming towards me. There was the one I hooked while one was picking its head (probably trying to eat the lure out its mouth), one attacking my bullet weight and the others just following the group - what an awesome sight and the fish I landed was a +50 beauty too - finally!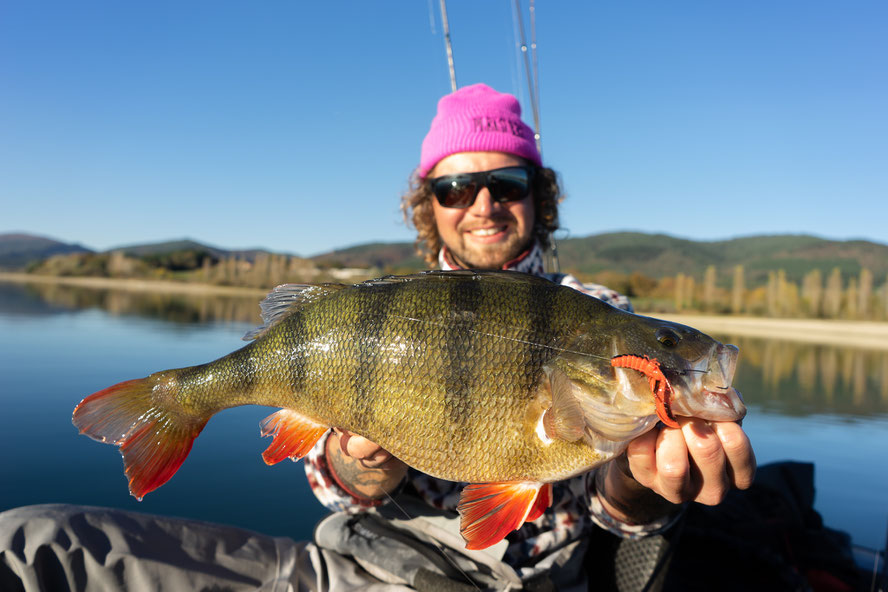 Shortly afterwards one of my friends had to leave as he had his flight back home in the evening. I was so happy that I could stay because I gained a lot of confidence in that spot within the last hour so I told the other guy that I would spend more time here. He decided to stick around too and shortly after I landed the next fish!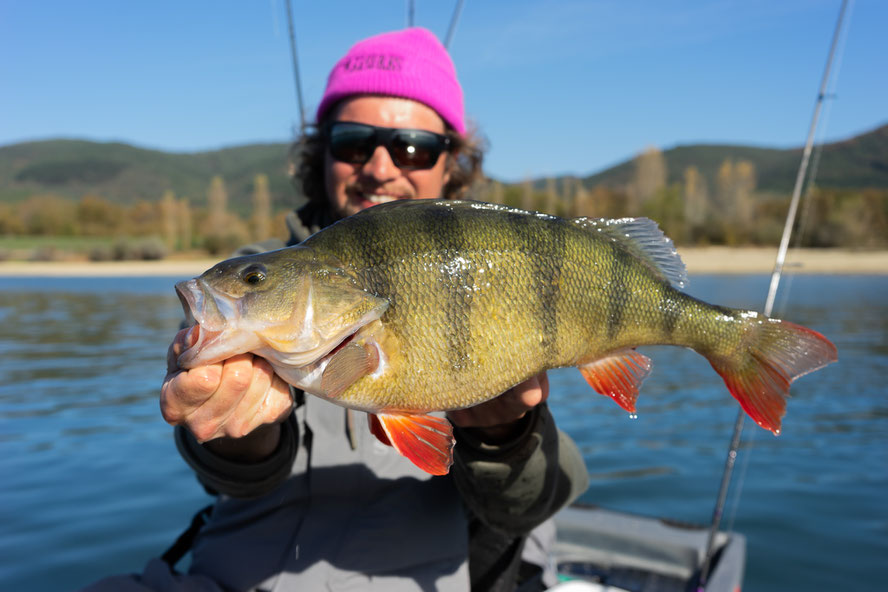 It seemed like I hit the right spot at the right time as I caught several nice fish within a short time period, we even had double hook ups with big perch for both of us. The last one I hooked was another huge perch, +50 I thought but nothing else as I was just happy about my catch. My friend luckily insisted that i would measure that fish which I did and there it was - 53cm! A length which is even for the locals not common and I was later told that this fish will weight well over +3kgs a few months later before spawning. New Personal Best for me again which again I didn't expect to break anytime soon!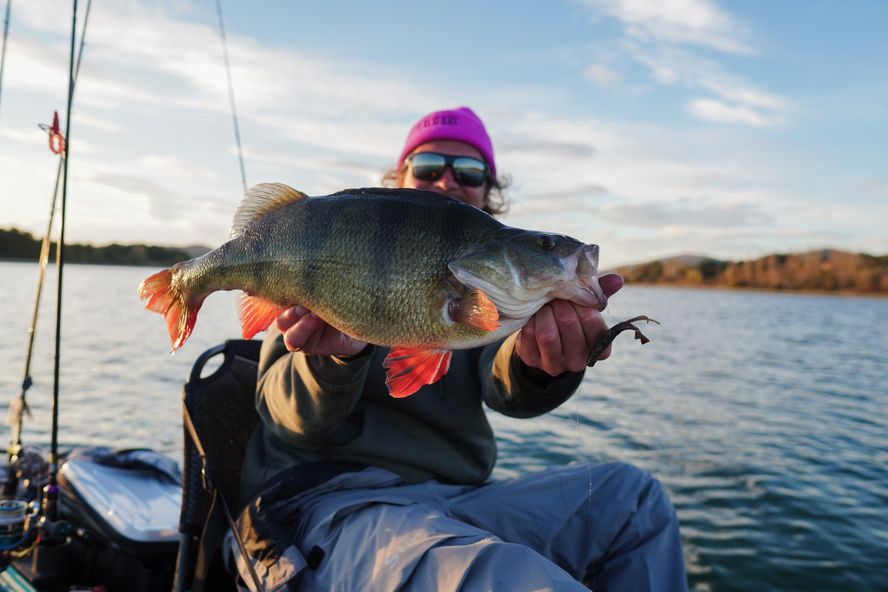 In the end my perch stats for the day looked as follows: 42/48/50/50/51/53cm plus bites and few that got off - definitely my best day of perch fishing ever and I'm not sure if I ever will beat that...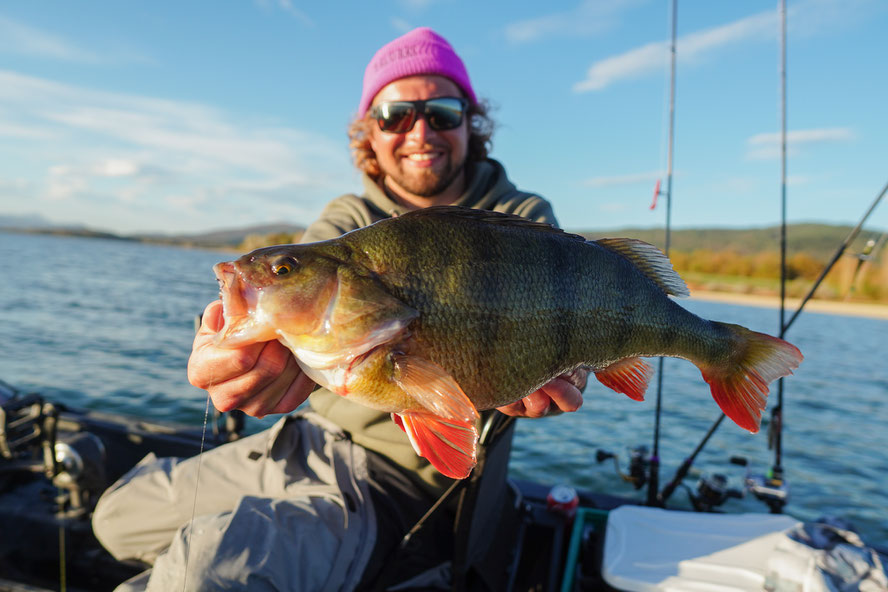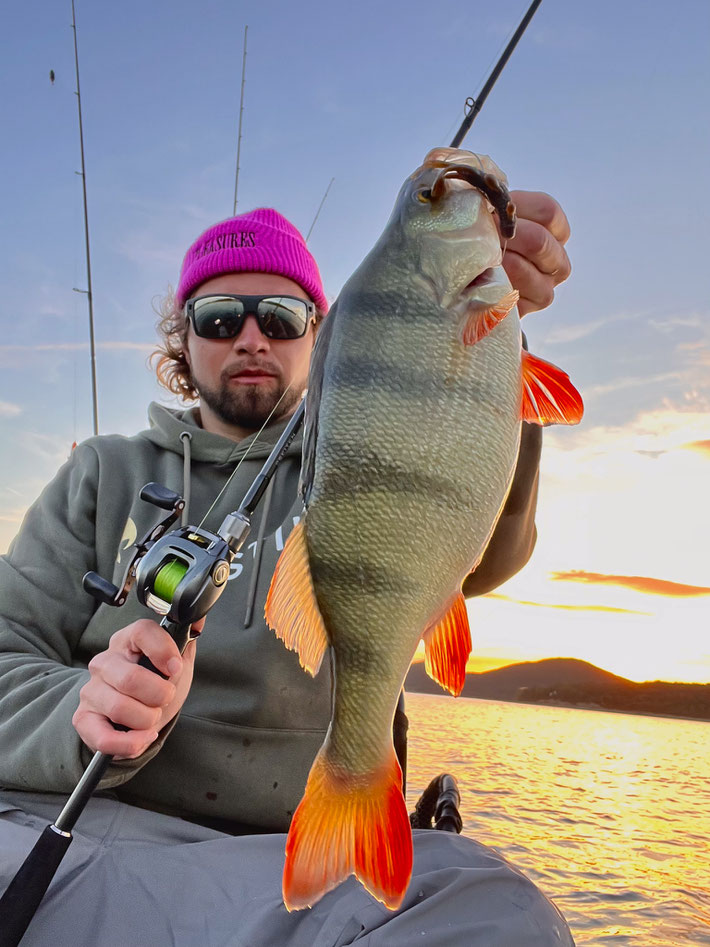 The following day is also worth mentioning. Finally it came a day with almost no wind in the morning so my friend and I decided to paddle out to a far spot. I never fished there before but got some tips from another group that fished there the days before. It took me some time to figure it out but then the bites finally came. After I landed two +40 fish in a row I explained my partner what I was doing and he started to get bites too. I caught several really nice perch but none would hit the 50cm mark even tough several came very close. It seemed like luck changed its side as my friend caught several +50 perch. Sometimes fishing can be crazy. In the end I finally landed a straight 50 too and sonner after that the bite died down and the wind picked up. Rest of the day was then rather slow but those two hours at the beginning were lots of fun. :)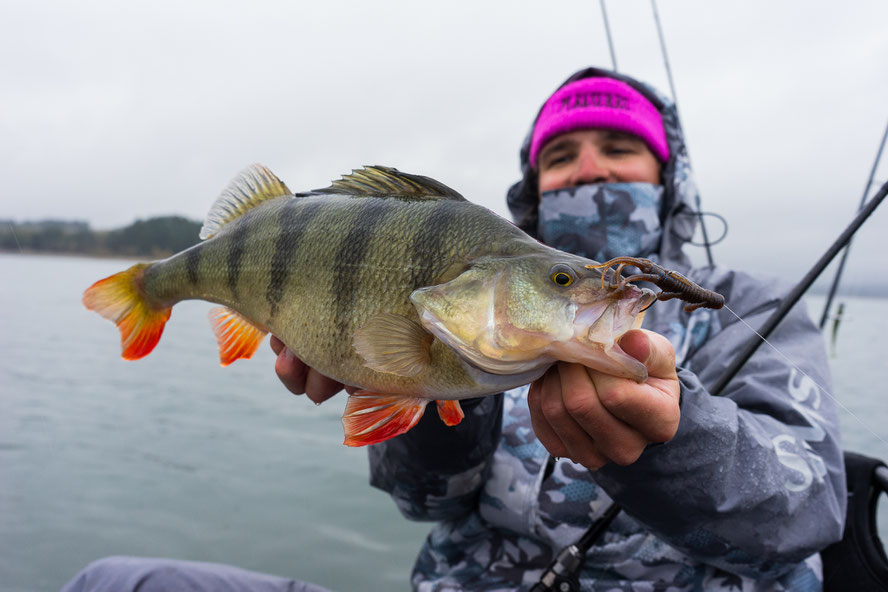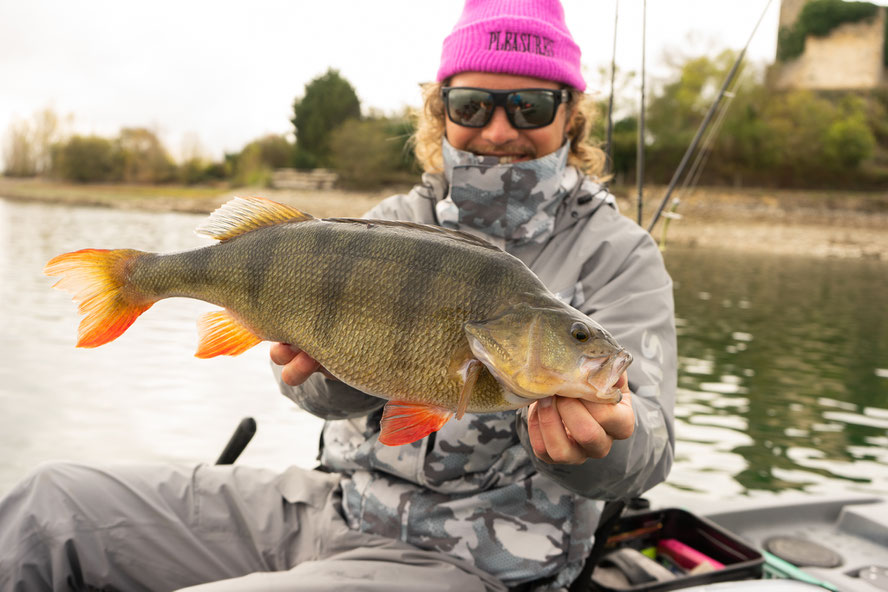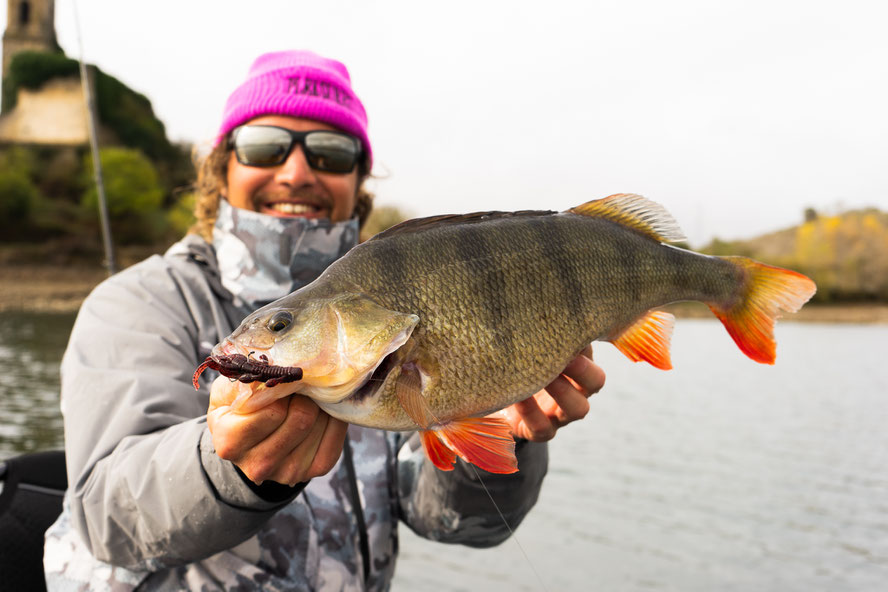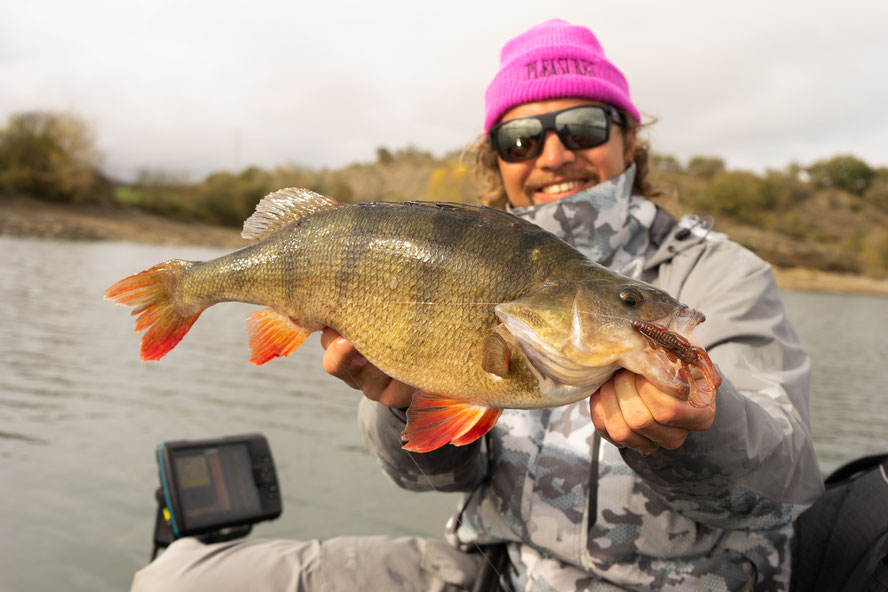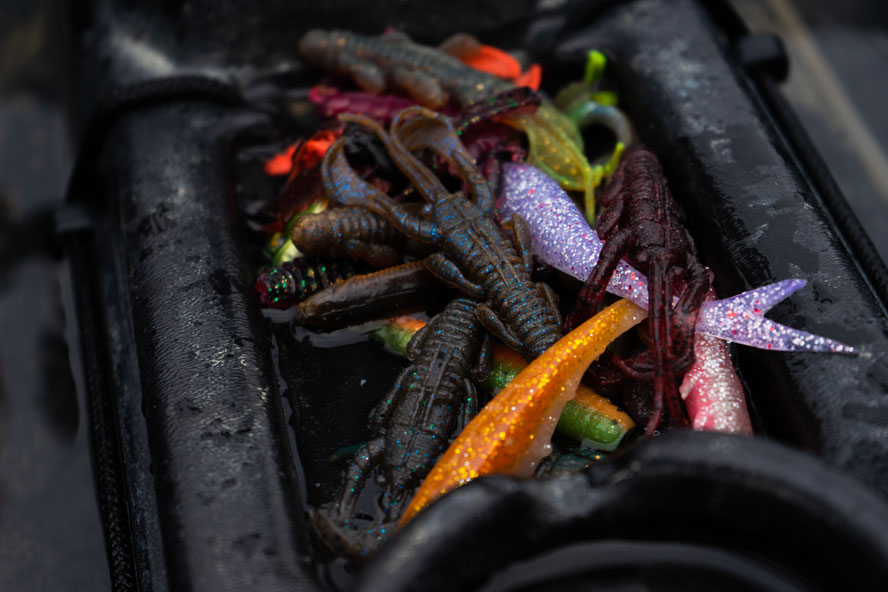 One day the wind was so heavy that they put out storm warnings for the whole town. I was told that the mayor even called our operator and asked to not let any clients on the kayaks as they were concerned for our safety. So we accepted that and decided to try out fishing from shore. There were spots were I caught my fish basically a couple meters from the shoreline so I suggested we hit up that spot which we did. Fishing rigs in a storm is definitely a challenge as the waves will carry around your lure how they want even tough I doubled my sinker weights. Since we had to walk almost half an hour to the spot we decided to stay there despite wind and occasional rain showers hitting us straight in the face. I couldn't really feel my hands but to my surprise I felt a bite and even better, the hookset stuck. Possible 50cm perch from shore - nice! That was motivation enough to keep fishing until it got dark which wasn't the best idea because we definitely had our difficulties finding our way back to the car afterwards and once again showed up late for dinner.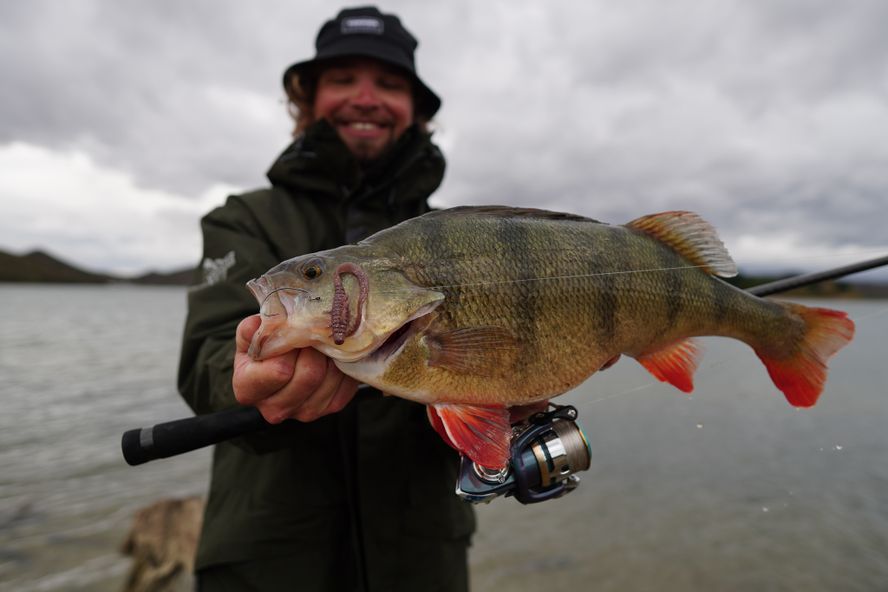 For my last day, the weather wasn't too promising and wind was once again already blowing hard in the morning. They let us on the lake anyway and my goal was clear - to not sink and more important to catch one last good fish. We arrived on the first spot which was already way too windy for my liking but we didn't have many other options as paddling longer distances over the lake was too dangerous with those waves so we had to stick to the shoreline we were at. While constantly fighting against the waves I casted around the flat I was on and tried to keep contact to my lure. Sooner than expected I felt something on the other end of the line but wasn't too sure about it being a bite. Since hooksets are free I set it -  fish on! I was hoping for a photogenic +45 perch but it came even better - 51cm within the first two hours on the water. Whatever would come next was just bonus.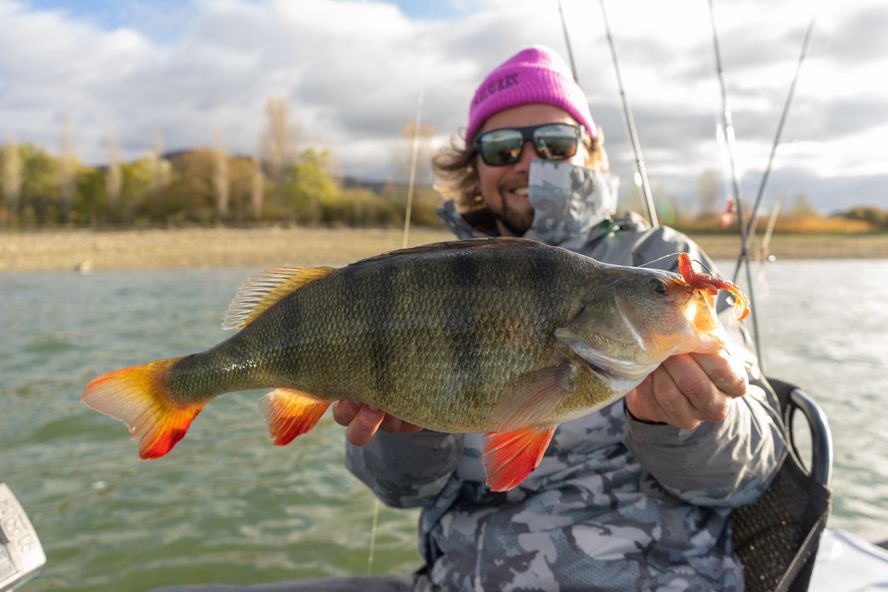 As the wind got heavier a second problem appeared - kitesurfers. As navigating with those waves wasn't hard enough already, more and more surfers appeared on the lake who wanted to take advantage of the wind. In order to not get hit by them I paddled close along the shoreline, got stuck several times on dead trees or sandbanks and finally made it to a small cove which was a bit protected from the strongest winds. I never had any luck on that spot before but was told of a lot of good catches there and since there weren't much other possibilities to go to, I spent the afternoon there. To my surprise I even caught two perch plus missed a bite or two so it was definitely better than I expected. I even made it back to the port without sinking so I would call it a good and kinda safe day to finish this trip. Well, at least the fishing trip was over, the packing and driving back home was still on the to do list but I somehow managed to do that too.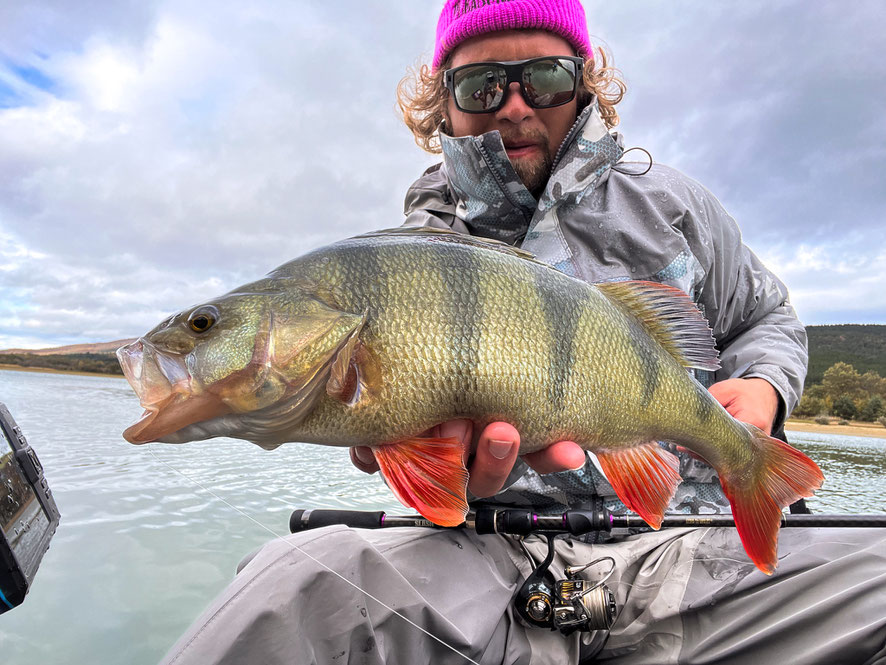 As I mentioned before, it might appear easier than it was.. I definitely learned a lot during those days on the water, spent most of the time fish- and idealess on the water, freezing hands and wind dried face but I definitely had some awesome moments and in the end I enjoied all of it in some way. I constantly gotta remind myself that if it would be easy, it wouldn't be a passion, it would just be a habit... Once again I met some nice people, had interesting talks and somehow even got a step forward with getting along with myself. 
The next day, during one of my stops on the way home I already reserved my spot there again for the coming year so yeah, I will be back!
Thanks for reading!
PEACE&LOVE
Joel